Mark Ian Howell, A bit before his time
Tony Morrison recalls
After graduation in 1958 Mark joined the BBC as a trainee sound recordist but as he said, he 'chucked it in' sometime in 1960. A year earlier we had got together over a pint of beer in Bristol to lay the foundations for a Trans-Continental Expedition to encircle the globe overland. As undergraduates we had mulled over the possibilities of adventurous travel - possibly it was just escapism from the reality of exams - but it grew.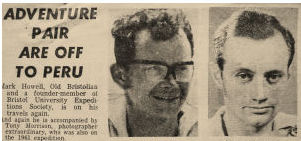 The University Expedition of 1960-61 led to Nonesuch Expeditions and three journeys to South America.
Mark wrote two books about our adventures and feature stories. Four were published by the Bristol Evening Post and others by The Peruvian Times,Lima. The Bristol paper gave us good coverage and for Mark it was especially welcome as he was a Bristolian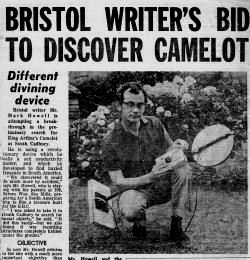 Bristol Evening Post 1967
During one of our expeditions Mark almost drowned in the great rapids of the Urubamba, an Amazon tributary in eastern Peru. Saved by Hugo Echegeray our Peruvian raftsman Mark struggled to the bank to find he was clutching a small Kodak film canister. "It was the only solid thing I could grab mate." He laughed and lit a proverbial fag. See Features on this site Pongo de Mainique for the full account
From the mid 1960's onwards Mark devoted his energies to developing a long-before-its-time device for detecting underground features. Old pipes, bodies, buried treasure and much more were the challenge for his inventions.
In the mid-1960's Mark met Lynda Lee an extrovert and much admired young artist in London. They began a relationship that was to last for many years and with her support Mark created an electronics company - Geophysical Prospection Ltd in Bristol in the late 1960s.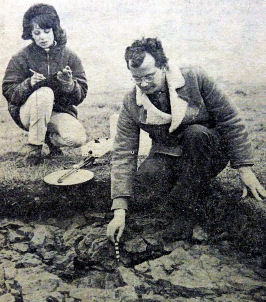 Lynda was excellent at PR and helped with the first public demonstrations of Mark's inventions including to the local Press, the Daily Express and BBC TV.
Camelot and King Arthur's castle
In the early days of development they became involved with the search for King Arthur's Camelot as well as other legendary hoards. These were small steps but immensely significant as it became clear that the concept had potential beyond simple metal detecting.
In the picture on the right from his constant supporter , The Bristol Evening Post - 'Mr. Mark Howell of Bristol measuring during a survey at South Cadbury. His assistant Miss Lynda Lee, takes notes on the site of the 'Camelot Dig'.
By the 1970s Mark and Lynda had decided to move apart but remain friends. Mark married and almost immediately divorced while Lynda married a Bristol entrepreneur. Mark re-named the company and sought investment to help him develop his ideas but very quickly found himself at the mercy of the moneymen. Taken on as a consultant, he made a long sales-cum-ideas consulting journey to Australia and the Far East, but for him there was little long term benefit.
Clifton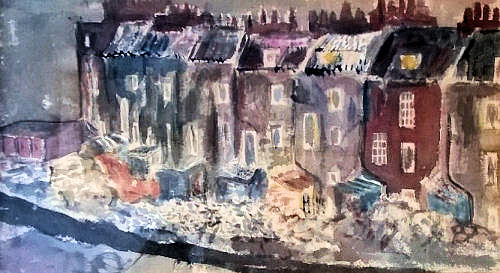 After three years Mark was left withn a few good assets and began a new business with fresh ideas. By then he had met Sally, a midwife and they settled in Clifton a Bristol district overlooking the Bristol Avon river.
Lynda was separating from her husband and with Sally's total approval Mark helped with cash. 'He was generous and caring to a fault'. Lynda gave him some paintings of rooftops she had seen from the Clifton flat.
Later Lynda re-married and with her second husband made a home in the Somerset Levels. All remained closely in touch thanks to connections with the company Mark had founded in the 1960s. That company was bought by an American corporation and now has a multi- million Pound sterling turnover.
Mark, working from a small office area in the flat produced numerous patents and his ideas have given work for hundreds of people. During the 1990's an emphysema began to take hold but it did not affect his output of ideas and he was still developing a totally new device until a few weeks before his death in 2002. Mark was a Bristolian through and through. He enjoyed the city to its full and is survived by Sally. (2014)
2013 Lynda died from MS and is buried in Somerset.
The Torch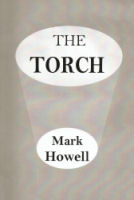 2014 — Mark's brother Keith older by four years and a scientist found that Mark had started to write a novel seemingly based on his life. Keith and Sally had a few copies printed and in a short introduction Keith said
'Mark was a consulting engineer, self employed for most of his life and this novel is semi-autobiographical. Its theme of intellectual property rights in the context of company employment must have bedevilled his whole working life.....
Both Mark and Keith were educated in prestigious Bristol schools, Keith at the Queen Elizabeth Hospital School for boys, founded in 1590 - Keith went on to achieve a Doctorate in Chemistry. Mark was at Bristol Grammar School, then a 'boys only' school founded in 1532.
Their paths were very different but similar - if that makes sense. Keith continued with science more formally while Mark remained fiercely independent, shunning authority and not suffering fools gladly. Mark rarely mentioned Keith except when considering something scientific.
In a recent chat with Keith he said 'Mark consulted me on some of the mathematical background to his work and we had some interesting exchanges. I have always been amazed that most of his inventions and patents were dreamed up via ingenuity and intuition, not academic knowledge'.
And that sums up Mark's hidden talent. Keith again.' in almost every field that he turned his mind to, Mark achieved a degree of competence that can be recognised '
Also among Mark's work Keith found an unsubmitted PhD dissertation for a Soil Anomaly Detector . For the curious, the outlines of several of Mark's intricate patents are available online - try Google using the following keywords> mark ian howell bristol sylvan way patent < or variations
The Mark I knew
But of the Mark I remember; he revelled in solving problems.
During the University Expedition in 1960-61 Mark was responsible for the two Austin Gipsies, thought to be state of the art 4 x 4s. The vehicles had to be kept on the road ready for action at all times but while being a pleasure to drive the design faults seemed endless.
The problems began in Strasbourg on Day 2 and continued to appear until we arrived in Montreal, Canada close to the end of the journey.
Mark was prepared for mechanical trouble and had packed a very extensive toolkit. He worked in all conditions and enjoyed the challenge. One treasure he has left is the daily log for each vehicle - a copy was sent to the manufacturers and he left another with Sally.
The logs record Mark's skills and the obvious deficiencies in the vehicle design. Gipsies went out of production in 1968 with only 21,208 completed.
Here is the log for the second vehicle 110 KAE Chassis 31/1518/ 6594. It gives a clear date point along the around the world route, mileage,and some indication of the fuel used in gallons. The log for the second Gipsy, VP 6146 is in our Collections.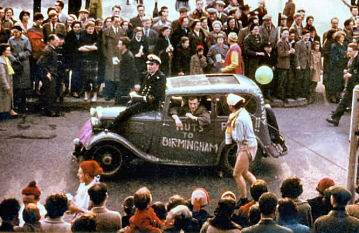 On a lighter and more flamboyant...err um... note ..... Mark created a number of high profile Rag Stunts for charity. In 1958 his army socks filled with sand were used as weights at the bottom of a banner across the University's Wills Memorial Tower - he had been in the Army for his National Service [conscription]
And in the same year he achieved a short term unsecured loan on a portrait of Birmingham University's Founder. Mark's Standard 9 in the Rag Parade, 1958. A fellow student dressed as an Admiral carries the portrait. The Bristol Evening Post said it was the best ever Rag Procession and led with the story of the banner.
Also by Mark Howell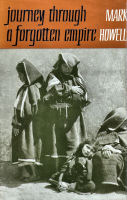 Journey through a Forgotten Empire [Photographs by Tony Morrison]- Geoffrey Bles publisher 1964
The film making expedition to Peru and Bolivia in 1963
Steps to a Fortune [with Tony Morrison]- Geoffrey Bles publisher 1967
The film making and exploring expeditions to Peru and Bolivia in 1964 and 1965
This included the account of an epic hike to Espiritú Pampa, The ultimate Lost City of the Incas only weeks after it had been re-discovered in 1964.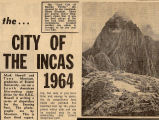 1964 Bristol Evening Post , England
Here is one of the five stories. I have chosen this because it is focused on Machu Picchu, the Inca citadel set in magnificent Andean forests. Today Machu Picchu is subjected to mass tourism with constant overcrowding. Mark's observations from more than fifty years ago carried a serious message that has been overlooked... In my opinion very sadly overlooked. READ
Footnote
By 2014 the business Mark created in the 1960s had evolved to become an International Company with an annual turnover of close to 50M Pounds Sterling / 78 M Dollars US.
Mark would have believed anything to be possible ... With a shrug and a 'fag he had subtitled his book The Torch with a heartfelt comment - A study of greed by the Author