After my marriage to Helena at the church of the Hogar de la Madre in Lima on 16th January 1947, we proceeded to the house of her uncle Dr Jorge Voto Bernales for the reception and wedding breakfast. Afterwards we went to the Country Club where we spent our wedding night.
Next morning
Early next morning we left for Limatambo airport to catch a Panair plane for Brazil. At the start the flight was without incident calling at Arequipa and La Paz. After spending the night there, we set off in the morning for Oruro. Not long afterwards the plane began to lurch from side to side due to turbulence. Poor Helena was terrified and began to pray. After some 10 minutes of this, the pilot announced that we would be returning to La Paz and would make another attempt in the afternoon.
The second attempt was still not successful. Looking out of the window it seemed as if the wing of the plane would scrape the side of the mountains. The plane would drop earthwards, then suddenly rise up. Fortunately neither of us was air sick but many of the passengers were. Finally the pilot announced that we would be returning to La Paz and we would set off early the following morning. So another night was spent in La Paz.
After a bit of a delay we set off again and this time the plane managed to get over the mountains and we landed at Oruro. After a brief stop, we went on to Cochabamba where we spent the night. Next day we left for Brazil calling at Santa Cruz before landing at Campo Grande. We were supposed to change planes here and fly to Rio de Janeiro the same day. However, we were informed that due to our delayed arrival, the plane for Rio had been chartered and we would have to stay the night and leave the next morning.
By this time, Helena feared the worst. The Hotel was not exactly what she was accustomed to, our room had been converted out of a much larger room with a tbin wooden partition separating us from the occupants of the adjoining room. During the night we heard scratching sounds. In the morning we found that rats had been gnawing our soap!
Rio - and the flight had taken us five days
Next day we embarked on a Panair do Brasil plane for Rio de Janeiro. Finally we landed at Santos Dumont airport to find Mr Shortland, the Lamport & Holt General Manager, awaiting us. Our flight from Lima had taken us five days!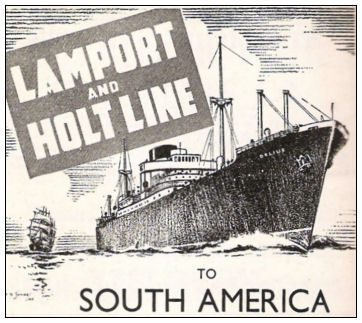 Mr Shortland informed me that I was to proceed the next day for Rio Grande where I was to open an office of Lamport & Holt Navegação S.A. At that time, the work of attending to steamers was being handled by a sister company Cia Navegação de Lagoas S.A whose manager was Sr Radzki. Whilst I was in the Rio office receiving instructions Helena busied herself sampling ice creams at every place she could fimd in the Avenida Rio Branco
Next morning we went out to the airport and boarded a VASP plane for Rio Grande. The plane taxied to the end of the runway. Then we heard strange noises from one of the engines as though it were backfiring. No one seemed to take much notice but Helena called one of the flight attendants saying that she wanted to get off the plane as the engines were not safe. The Pilot was called and though he insisted that there was no danger, Helena was adamant and demanded that we return to the airport building. So the plane returned and all the passengers disembarked. After a bit of a wait, it was announced that another plane was ready and for passengers to embark. Just before doing so, the pilot came over to Helena and told her that there had been a few drpos of water in the gasoline!

Rio Grande
When we arrived at Rio Grande airport, Radzki was waiting for us. He addressed me as Mr Persons. When I pointed out his error he explained that a week before he had received a telegram to say that Mr& Mrs Stephenson would arrive on such and such a day.
Then when we left Rio, he received another telegram reading "Persons mentioned in my previous telegram left this morning." Radzki, whose English was limited, took this to mean that there had been a change in plans and only a Mr Persons would now be arriving. The upshot was that he had only reserved a single room at the hotel, a very small room, and there was no other room available. Although we moved to a double room the following day, that first night was very cramped and we had to leave one of our suitcases outside the door.
.Meanwhile I was seeking a suitable office. The best I could find was a disused cinema in the main street. It was completely empty inside. I consulted Radzki and we decided to build a shoulder height partition down the centre. CNL had one half whilst L&HN had the other half. On the stage we placed the Stevedoring Office whilst up in the balcony we divided this in two, one half being for Radzki and the other half for me. It was a bit squashed but it served its purpose.
Once or twice a month I had to travel by train to Pelotas to discuss with the Manager of Frigorifico Anglo the amount of frozen meat he had for shipment to the UK. The meat would travel down river from Pelotas to Rio Grande in lighters with plenty of blocks of ice to keep the meat frozen. Upon arrival in Rio Grande the meat was immediately transferred to Cold Stores to await shipment. Whilst at the Plant I used to buy lovely filet mignon at a ridiculously cheap price.
'You cannot cook that bird ...It stinks'
One day whilst at the Plant I purchased a pheasant which I was informed had been hung for a week or more and was now sufficiently 'high' to be cooked. I gave it to our cook. Picking it up and holding it at arm's length, she exclaimed with full conviction that the bird was 'bad'. "Shall I throw it in the river?" "No, cook it." I ordered her. She obviously considered me mad. She decided to acquaint Helena with such an absurd request. However, Helena sided with her. "Of course you cannot cook that bird. It stinks." Nevertheless, I insisted and in due course the bird, suitably cooked, was served for lunch. Helena made me sit at the far end of the table whilst she ate something quite different. Afterwards when I was having my siesta, the cook kept poking her head round the door of the bedroom to see if I was still alive.
The work of receiving and despatching steamers was easy for me as I had had much practice when I served in North Brazil for the Booth Line. What was new to me was the loading of frozen meat. I quickly discovered the tricks of the Chief Officers who, to guard themselves against any meat arriving at destination other than perfect condition, would pick on certain frozen carcasses, bore a hole into them with a brace drill, stick a thermometer into the hole and take a reading. If the temperature was even a fraction high, the carcass would be rejected and sent back into the Cold Store. I noticed that the officers would rotate the drill as fast as possible which would naturally increase the temperature. I countered this by giving instructions to the man in the Cold Store to immediately send back the rejected carcass at the bottom of the next sling. In this way the rejected meat went back into the ship and the shipment was complete.
Sad news
Then one day Helena announced I was to become a Papa. Great delight and enthusiasm but followed shortly by the news of a miscarriage. The doctor recommended that Helena travel south to Montevideo in neighbouring Uruguay where thre was better medical attention.
Whilst Helena was in Montevideo I received a remarkable offer from Wigg & Co, shipping agents. The offer included a partnership with participation in the profits, home leave to the UK and sundry perks. It seemed such a wonderful offer that I accepted and sent in my resignation to Lamports. However, later I had second thoughts and told Mr Wigg that on account of my wife's health, I would have to withdraw my acceptance. Meanwhile, as Mr Shortland had begged me to reconsider my decision to leave, I advised him that I would remain after all provided that I was transferred to somewhere with a better climate. Within weeks, my replacement had arrived and Helena and I flew to Rio.
After a few days living in a hotel, we rented a small flat in Rua Benjamin Constant in Copacabana. Instead of the ice box which we had in Rio Grande, I bought an American refrigerator which we had to stand in the dining room for lack of space.
The Lamport office was on the first floor of a building in the Castelo district. My job was to maintain contact with importers and exporters to drum up cargoes for our steamers. I also had to work out freight rates which meant multiplying so many tons, hundredweights, quarters, pounds and ounces by say 249/6d per ton. [249 shillings and 6 pence - the British currency of the time] Fortunately I had had good training in such work at the Booth Line in Liverpool.
A challenging calulation
Something which was new for me was working out the stowage of cargoes. I had to work out the tonnages and measurements of the cargo for shipment using a special table of stowage factors, then deciding where and how much cargo would fit in the ship's holds bearing in mind the draught of the steamer in both tropical and temperate waters. I found this fascinating.
We also had to attend to the four Blue Star Line passenger steamers, Argentina Star, Brazil Star, Paraguay Star and Uruguay Star on their homewards bound voyages stopping at Rio de Janeiro to load boxes of oranges. There had been complaints from London that the ships frequently arrived with space to spare. Shortland gave me the job of seeing that every available space was filled.
Although the four vessels were sister ships and theoretically of the same size, by studying the stowage plans I detected slight differences which was borne out when I analysed past manifests and stowages. Then came a letter from Head Office congratulating us for the excellent stowage attained on recent voyages of the Blue Star vessels.
Shortland called me into his office and after expressing his thanks and congratulations asked me how I managed to load the boxes of oranges so successfully. This is what I told him:
"First I take the cubic space as given in the printed data. Into this I
divide the average cubic measurement of each box of oranges. This
gives me "X" number of boxes to be loaded. Then I add one box for
each letter in the name of the ship. Thus for Brazil Star I add 10 boxes,
Then I add one box for each letter in the name of the month. Thus 4
Boxes in the month of June. The total is the amount of boxes of oranges
which will fit into the vessel's hold leaving no space over."
I thought Shortland was going to explode. His face red, he shouted "Stop fooling with me. I asked a civil question and I expect a civil answer. You are perfect idiot. I've a good mind to sack you." Then I explained to him and each ship was slightly different and I had noticed that the difference was equal to so many boxes of oranges. He thought for a few moments then "But what about that foolish idea of so many extra boxes equal to the number of letters in the name of the month." Patiently, I told him that in June at the start of the orange season, the oranges were larger and so the tops of the boxes bulged but by September the best and larger oranges had all been shipped and what were left were not so big. I don't think he believed me but as I continued to obtain perfect stowage he decided to let things be.
Towards the end of 1948 I was transferred to Parnahyba to teach the new manager the business of running the Agency which entailed despatching tugs and lighters to Tutoya to meet the steamers, looking after the repair of the those tugs and lighters and maintaining good relations with the various export firms. No sooner had I arrived when I was named British Vice Consul in charge of the Consulate. However, not long after I received a communication from the British Consul in Belem do Para that the Labour Government had decided to eliminate a large number of honorary Vice Consulates around the world and that Parnahyba was one of them. I was instructed to send to Belem a list of Consular items. On the list was a lovely cedar wood chest, The British Consul's Manual by E.W.A.Turner 1856 and the Foreign Office & Diplomatic Consular Year Books for 1921 and 1943. In the latter my name appeared a being British Pro Consul in Sâo Luís do Maranhão. I was allowed to keep all these items returning only Consular papers and documents.
Labour Laws and 'overtime' at last
After six months, we returned to Rio to find that a new sub-manager by the name of Wilson. I was his assistant. One of his first requests was for the Labour Laws. After studying them, he announced that henceforth we were to work only from 9 am till 5 pm and any time after 5 pm would be subject to overtime. Work done after 1 pm on Saturdays and at any time on a Sunday or holiday would be paid double time. Never since I first worked in Brazil had I ever received overtime so naturally I was delighted.
We had a Booth ship in port over a weekend. On Sunday morning, Wilson telephoned me to ask if I would accompany him aboard the ship to check on the loading. He picked me up at 10 am. On board we first of all watched the loading and unloading. Then we spoke to the Chief Officer after which we had drinks with the Captain. Another quick look at the loading, then back home. Total 4 hours overtime. What with visits to ships at 4 pm and getting home at 6 pm, I was soon earning twice my salary. It was too good to last and within six weeks, Mr Vestey had forbidden all overtime for foreign staff.
One day Mr Wilson was discussing something or other when the clock struck 5 pm. Immediately he downed tools saying "Must not do overtime." Then Mr Vestey stopped staff taking taxis so in future if we were aboard a ship at the docks and it got to 4 pm he would say "We had better go straight home as we have to take a tram and that will not get us to the office till after 5 pm which would entail overtime so let's go home now."
Mr Vestey owned the Eldorado Ice Cream Co. However, his auditors informed him that he had to have two shareholders so Wilson and myself were both given shares. It sounded very grand. At the year end, we were each asked to sign a receipt for a dividend. When I asked for the money, I was informed that the money would remain with Mr Vestey. I promptly pointed out that this would entail our having to pay income tax and it was up to Mr Vestey to reimburse us. No way, so we both resigned and handed back our shares.
One day we received advice from London that there was a certain gentleman aboard the Brazil Star who was a guest of Sir Edmund Vestey and that he was to be suitably entertained whilst the ship was in port. It was my job to wine and dine him and generally give him a good time whilst he was in Rio. He was a nice old gentleman. I told him that I was to show him around Rio de Janeiro and anything else he might wish. He said he couldn't understand all this fuss about him.
The gentleman did not seem particularly keen to drive around the city and wasn't interested in churches or museums. All he wanted was to remain aboard so he could paint the Pao de Açucar [the landmark hill - the Sugar Loaf]. Then he said to me "I cannot understand why all this attention.
His story was fascinating
The gentleman continued. "I was on London Bridge painting a view of the river when a dear old man stopped and asked to see my work.Then he asked for my address and thought he wanted to buy some of my sketches. A few days later to my surprise I received a letter enclosing a first class passage to Buenos Aires and back on this ship. I have no idea who the old man was except that his name was Vestey. "
As I listened to the story he said to me "Look. ......I don't want to spoil your pleasure and if that old man is paying for everything, take me to the best restaurant in town and we will have a good meal together." Thanks to Mr Vestey we enjoyed ourselves.
Then in early 1950 Helena and I left for England on three months leave. We hired a car and travelled around England visiting all my relations. My parents and two brothers were living in Cosy Nook in Broadstairs at the time so we saw quite a lot of them. Unfortunately my father was ill and died shortly after our arrival.
For God's sake don't bring your wife here again
Just after the War when people no longer had servants, articles of silver and silver plate were replaced by items of chromium which need little or no cleaning. We preferred silverware so we eagerly purchased a silver plated tea set, spoons etc. Then I saw in a second hand shop a tantalus. I had always wanted one so leaving Helena outside I went in to use my bargaining powers to buy it. The price was £3.15.0. After much arguing, the owner of the shop agreed to let me have it for £3.10.0 I was delighted with my efforts and was about to hand over the money when Helena came into the shop. "What are you buying?". I told her proudly that I had obtained the tantalus having beaten the shop owner down to £3.10.0 Helena told me to go outside and wait for her. Some 20 minutes later she came out with the tantalus followed by a somewhat irate shop owner who said "Give me £1.10.0 but for God's sake don't bring your wife here again."
During our leave Helena became pregnant. The doctor thought she should not travel for the first six weeks or so in case she had another miscarriage. She spent a few days in hospital in Liverpool and then my good friends, the Pritchards of Heswall, offered to look after her until she was fit to travel. I caught the Debrett for Rio de Janeiro whilst Helena followed aboard the Royal Mail steamer Alcantara
Back in Rio de Janeiro, the first thing I had to do was to find somewhere to live as we had had to give up our previous flat when we left for holiday. I decided upon a pensão (boarding house) This had the great advantage that I had a bedroom which was cleaned and tidied, I could have my meals without trouble and come and go when I wished. However, this could no go on for long for Helena was arriving soon. When the Alcantara arrived I went down to the docks to meet Helena. The first thing she wanted to know was what I had packed in one of the trunks.
She said that when the trunk came aboard, it hit the side of the ship and a dark brown liquid began to leak out and as it was carried across the saloon carpet it left a dark trail. Then I remembered that it was Darkaline floor varnish. Once home we opened the trunk and as I lifted the lid, most of the contents lifted too stuck to the lid. It turned out that the Darkaline had spoilt five of our brand new linen sheets which we had bought in London from Robinson & Cleavers. Fortunately I had insurance and through them we received 5 new linen sheets and we were able to salvage sufficient cloth from the damaged sheets to make pillows.
We spent several days seeking accommodation. Rents were frozen so one had to pay Direito de chave (key money) to obtain a flat. The only suitable one we found was in Leblon and the key money was Cr 60,000.oo which was far more than I could afford., I approached Mr Wilson. No problem", he said, "the firm will loan you the money." "But how much will I have to pay back each month?" I enquired. "Don't worry about that. You only need pay back what you can afford and when you wish"
It seemed a good proposition so I requested a loan of the Cr 60,000.oo which was granted without any problem. We rented the flat and included in the key money were two beautiful wardrobes, a table with drop down leaves and two chairs. It was only afterwards that Mr Wilson told me that if staff took out loans for then they could not leave whilst they still owed the money and if they retired, then the loan would be discounted from their indemnity. At the same time, the salaries were fixed !
Helena by this time was nearing giving birth. She naturally wanted to be close to her mother at the critical time so we made arrangements for her to fly to Lima whilst I remained in Rio. I had made friends with a young English lad called Gordon Coleman who worked in Norton McGraw, a British import export company. I started to play tennis with him at the Paisandu Club where I met a number of his friends. One day he suggested that I join his group of friends on Sunday morning at Arpeador beach. He told he that I could change my clothes at his pensao. Gordon was living with three other English lads and a Brasilian boy. They had a cook and a maid who walked about bare footed and wore a very faded ragged dress which barely covered her. I compared her with our maid who was dressed in a uniform and at least looked clean!
After changing in to my bathing trunks, we all went down to the beach where we met some other lads and a collection of girls. Afterwards we all went to a restaurant on Avenida Atlantica for drinks and some food. Most weekends, when not on the beach, I would go with Gordon to the Paisandu Club to play tennis and do a spot of dancing.
Our daughter - Barbara
Then in May 1951, Helena returned from Lima carrying in her arms our baby girl, Barbara, She handed the baby to me at the airport and I carried her from there to our flat during which time the front of my coat became wet! I was not amused.
No long after this the firm moved to offices in a new building on Avenida Rio Branco close to Praça Mauá and the docks. A new employee, Desmond Hampshire, had now joined us. He was a member of the Hampshire family, fairly rich and with a humorous streak. He had two brothers who worked in the family business of Morton McGraw, importers and exporters and clients of Lamports.
Then we received a visit from a Vestey employee from Liverpool, He called each member of both the senior and foreign staff to his hotel room. There we were asked what complaint we had against Mr Shortland. I told him I had no complaint, that I got along very well with him and considered him an excellent manager. Obviously that was not the answer he wanted so he asked me whether I thought Mr Shortland was too lax in the office or whether he absented himself for long periods. I continued to say "no". Then he told me that he did not have a good report on me and that I would be transferred to the Parnahyba Agency. I thanked him so he added that, of course, as I would be staying in the staff house, the firm could not pay me the same salary as I was receiving in Rio. At that I told him that a) I had already been in Parnahyba before I went on leave and on the same salary as now and b) that according to Brazilian laws, I had to be paid an additional allowance for being sent to another Agency. I was then dismissed his company with the words that I wasn't being very cooperative.
Later I informed Mr Shortland of the interview and he told me that the firm were trying to find a way to sack him
Promotion?
I was now promoted? to Inspector Geral de Agencias. I asked what that entailed to be told that I was to keep a watch on the Agencies. I soon got tired of doing almost nothing when Desmond Hampshire told me his uncle had offered him a number of good representations and suggested I join him. One of the representations was 'Cats Eyes' or reflectors for highways. Desmond got to know the Minister of Transport so we called upon him and showed him samples. He told us that the Ministry had a surplus left over from their budget, so not to lose it when the next budget was given out, he wished to use it up. I worked out how many 'cats eyes' that amounted to and he said that he would be going to Petropolis for the week end but that on the Monday morning at 10 am we should go to his office when he would sign the order.
Desmond and I worked out that our commission would amount to some Cr 120,000.00 each. It was wonderful news and we began to think what we would do with the money. Then on Sunday night, the local radio gave out the news that the Minister had been killed in a car crash returning from Petropolis. That was the end of that.
The Magdalena disaster and frozen beef
One morning whilst travelling by lotaçao [low cost bus or van]to the office passing along the Avenida Botofogo I happened to notice a large Royal Mail steamer which was just entering the Bay. Suddenly, the stern spun round and she was stuck crosswise. Then the front portion of the ship, just in front of the bridge, split and I distinctly saw day light open up between the two parts of the ship. By the time that I returned home after the office, all that could be seen of the prow of the ship was the top of the mast. The aft part of the ship had floated away and had stopped just off the far shore. It turned out that ship was the Magdalena homeward bound on her maiden voyage. Apparently all the passengers and crew were celebrating their arrival in Rio de Janeiro when the bow struck the side of the channel, the stern swung round and got wedged on the other side and as the tide was going out, the weight of the vessel caused the ship to break in half.
As it happened the vessel was carrying frozen meat for Frigorifico Anglo. Fortunately, the electricity on the aft portion of the ship where the meat was stowed was still working and ipso facto, the refrigeration was keeping the meat frozen. Orders were received from London for someone to salvage Anglo's frozen meat. Since I had experience of frozen cargoes, I was given the task of salvaging it. There was a Lamport ship with refrigerated holds in port so I arranged for several lighters to be half filled with blocks of ice. The lighters were then towed alongside the Magdalena and I had the stevedores load the frozen meat into the lighters and the meat covered with the ice. Then the lighters were towed back to the shore where the meat was quickly unloaded and taken into the Cold Store. Next morning the "Memling" went alongside the Cold Store and the meat was loaded into her. I learnt later that the meat had arrived in perfect condition in London. Incidentally, I did not even get a letter of thanks.
By 1952 I had come to the conclusion that I had no future in Lamport & Holt Navegação since all the top jobs were going to Vestey personnel.
The end of my time with shipping
Comandante Frota, General Manager of Moor McCormack Steamship Co of the USA was a friend of mine. One day he confided in me that he was seeking an assistant to be trained to take over from him when he retired. I indicated that I would be interested so he asked me to go and see him.
After a brief interview, he offered me the job with a starting salary of 50% more than I was receiving from Lamports, home leave to the UK and use of a car. Naturally I rapidly accepted so he said that he would immediately advise his Head Office in New York and get them send a work contract for me to sign. He said that I could start as soon as I could leave Lamports.
However, a few days later, he called me to say that his New York office had replied that they had an agreement with Lamport & Holt that neither company would poach each others key staff. He added that my only option would be to resign from Lamports and take on a completely different job for a year after which I could then re-apply.
Hearing that there was a position of Office Manager being sought for a Coffee fazenda in the interior of São Paulo state , I decided to take the bull by the horns and resign. First I applied for the job and was accepted. Then I put in my resignation giving a month's notice.
The job was as Office Manager of the Cia Agricola Rio Tibirica, part of the huge British owner Cambuhy Coffee Estates. I would be allotted a single storey furnished house. And so ended twenty years in the shipping business.