Why Bolivia?..... I'm not sure I can answer in a word and so not to let you glaze over I'll move on to the story. The most I can say upfront is that Why Bolivia? is the working title of a book I began in the mid-1990s and never completed. Why? I am uncertain but thankfully I have the oral history on paper as two of the principal characters are no longer with us....They were good story-tellers.

Bolivia will forever be etched on my memory as I met Marion, my wife in La Paz the capital back in 1963. Now comes the memory lane bit and it's short. I promise.

Bolivia is a land about twice the size of France and back in the early 1960s it was just about off the map. Roughly a third of the country is Andean with splendid snowcapped mountains and the rest is lowland, often forested with huge rivers leading to the Amazon or River Plate. Only one road was surfaced and that was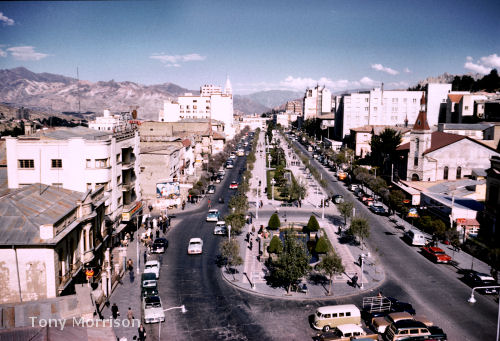 shattered by countless potholes for the full 480 kms. Just three and a half million people lived there and they were largely the ethnic Aymara or Quechua indigenous to the central Andes.
La Paz nestling high in the mountains numbered about 300,000 - not much more than many large towns today. The photo on the right of the main streeet, El Prado, was taken in 1961.

So far so good? There are no more stats and I'll move on with two unforgettable characters who very sadly have left the stage. Dr. Franz [Pancho] Ressel, a cancer specialist and Alfredo La Placa [Freddie] one of South America's leading artists.
1961 La Paz

In 1961 I visited Bolivia with five other graduates from my University and we were given a splendid welcoming party by the British Ambassador, Gilbert Holliday, a slight, wiry and cheerful person. Oh yes - they put on a show in those days as even getting to Bolivia was a challenge.

The guests were varied with some from the UN Project we were to study and half a dozen Britishers in grey suits surviving from the heyday when British-built trains were running on the same British-built railways which had crossed the mountains since Victorian times. In those days grey suits suggested the trains ran to time.
Other guests were varied ....' 'Meet George' ....stocky and bespectacled. 'He imports scotch whiskey..' and 'meet Archie'..... gaunt and receding hair ... 'He runs a bank... the exchange part y'know'... 'And here's Dr.Ressel he is one of our British Council funded scholars and just back from England. He speaks English very well'.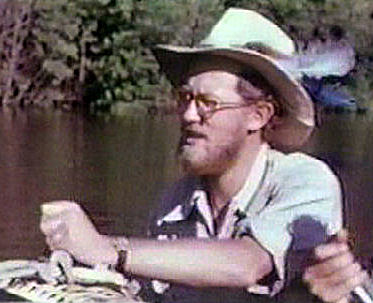 Franz Ressel
Now I must admit that while the UN Projects were 'all very fascinating' Dr. Ressel better known as Franz or Pancho and who had a second generation German background had actually travelled to some very remote parts of Bolivia. Well... as you can imagine Franz had me spellbound from the first handshake and fired my imagination with his clear, factual tales.
In 1957 Franz Ressel had been to the Amazonian forest with Hans Ertl, a German mountaineer and film-maker, to make Hito Hito a big screen movie of the Sirionó tribe for a Munich production company.
In post war Germany and in Bolivian cine circles Ertl was revered as he had worked for Leni Reifenstahl. Among many Reifenstahl films he had been a senior cameraman on Olympia the award winning but highly controversial film about the Berlin 1936 Olympic Games.
Ertl had taken shots from the ski jump holding a camera to his chest while in the air. In the years post-war Ertl had filmed the German first ascent of Nanga Parbat 8,126 m in the Himalayas and in Bolivia had climbed many Andean peaks.
But all that's for later and so moving on, Franz was a doctor specialising in cancer diagnosis and during his stay in London in 1958 had trained at the Royal Marsden Hospital prompting from me such questions such as 'was cancer prevalent in the Andean people and what native medicines, especially the plants did they use?'

Less than two years later I was back in Bolivia and making films for a BBC TV series Adventure, the brainchild of an energetic young producer David Attenborough. I was to make seven films working under the Nonesuch Expeditions banner created with Mark Howell, a close friend who was on the University expedition, and Franz Ressel was our contact Numero Uno. From then on he remained one of my firmest friends through dozens of journeys in Bolivia until he died in 2009.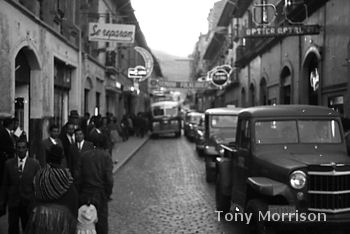 The learning curve began with the very first film of my 1963 schedule. We were after a story about the Aymara people who live largely on the altiplano, a plateau at an altitude of about 3.800 m. My working title was Children of the Lake, referring to Lake Titicaca, one of the world's most unusual lakes and the focus of Aymara creation myths.

Franz worked from a small laboratory in Calle Yanacocha one of the steep streets near Plaza Murillo, the main square of La Paz. Laboratorios Securitas was on the first floor. It was not smart but was highly efficient with an extraordinary NEOZET microscope made by Reichert, Vienna, Austria as a centrepiece.
Eliana - shortened as Eli Franz's wife who always wore a white technicians coat ran the business side keeping check of the constant flow of samples [biopsies and more]. 'White coats go with my work' said Franz. 'People expect them ... Just as they expect explorers to have a week's growth of beard. You must grow one for your film. Ertl always had a beard.'

The laboratory became a regular meeting place and as Franz knew I had plenty of experience of microscopy we often chatted about techniques as much as film-making. The sessions were often staccato as the preparation of samples followed a strictly timed sequence during which we would sip small cups of piping hot api, a semi-gloopy concoction and favorite local beverage.
The api was made from finely ground purple maize mixed with cinnamon and was provided by Pedro an elderly street vendor, a cholo [mestizo] well-known to Franz. Pedro always climbed the stairs with great agility soon after I arrived. I had the impression he had been watching the door and followed me inside to get a quick sale.

In 1963 Lake Titicaca was overlooked by magnificent snowcaps and we planned to film in villages along the lakeside for a couple of weeks. I say 'was overlooked' because the snow now has receded thanks to climate change. But in 1963, while the images would be visually exciting, the Aymara around the lake had already more than four centuries of contact with Europeans. I needed to find a community where something of their original way of life still existed.
Santiago de Collana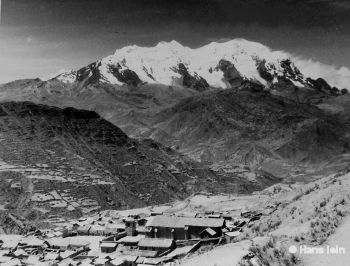 Franz suggested we should try to visit Santiago de Collana a tiny village on the flank of Mount Illimani [6,438 m] and he showed me a photo taken by Hans Lein, an artist friend. They had been there together some years earlier
The prefix Santiago - meaning St. James the Great, brother of John the Apostle and Patron Saint of Spain - hinted that some Spanish priests had been there in the Colonial era. But then, where had they not been. I didn't realise it at the time but the imposition of one religion on another in Andean history was being logged in my grey cells for a great story in the future.
The choice suited me well as the name Collana was derived from the centuries old name for the Aymara who were known as Collas and much respected as they had never been subdued by the Inca coming in from Cusco in the north.
Enter Alfredo La Placa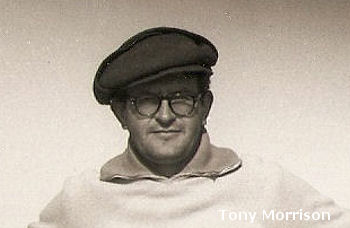 It was during one of our api sessions that Franz suggested we should add his schoolfriend Freddie La Placa to the team. Better known today as Alfredo La Placa, he had been at the German school in La Paz [Colegio Aleman 'Mariscal Braun']with Franz.
Many years later I was shown a caricature of Franz drawn and signed by Freddie 'my friend Ressel in the middle of La Paz'. In the background are the modern buildings of a late 1930s La Paz.
On my first visit to La Paz in 1961 the architecture of the ne Avenida Camacho, the Oblelisk and the older Avenida Mariscal Santa Cruz on the right were eyecatching.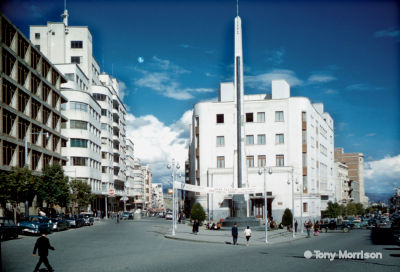 Freddie was born in Potosi a small but very historic city which in 1963 was about two days away by bus. Potosi is now a World Heritage City filled with museums and churches left from the heyday of its 16th Century silver production.

Freddie's father Amadeo La Placa was of Sardinian origin and his mother from a Spanish Bolivian family. Freddie whose olive almost Mediterranean complexion coupled with an instant smile and love of beautiful creations immediately appealed to me. 'Here's a friend' I thought - and so it was to be for over fifty years. And for me and Marion who was now part of the team, Alfredo was always Freddie.
Santiago de Collana is only 24 kms from Plaza Murillo but in 1963 it was not connected by road. So how about hiking? The village lies on the side of a dry valley at 3790 m and the route follows a series of ridges eroded sometime at the end of the last ice age at the foot of Mt Illimani. Camping was not an option as 50 years ago the Aymara villagers were unwelcoming and staying on their land overnight was ill advised. Franz who had been there said we must leave at dusk.

From the point of view of a film story Santiago de Collana was perfect. There we had a 'closed village' as a focus point, a spectacular mountain backdrop, and a blend of Spanish with Aymara religion. But even with a cut-down selection of filming gear we would be carrying a 'load' so Franz offered a solution.
A dirt road towards Mount Illimani led within five kilometres of the village and we could arrange a Land Rover to drop us and to pick us up in the valley of the River La Paz below Collana. 'There's a narrow mule path down the hillside' said Franz but what he didn't say was it was a descent of about 950 m which to us was just less than the height of Snowdon, the mountain in Wales. And we would be descending in the dark.
The journey
The expedition was born. We borrowed a Land Rover from the British Embassy Technical Assistance section ... ' OK if you pay for the fuel, the driver Moises and all meals'. 'Cheap at the price - a snip'.. As I said 'they put on a show in those days'.
All went to plan and the team? Allan Reditt my old schoolfriend was the Nonesuch business manager - he carried the cash and 'fixed things'; Mark with his miniature Swiss-made Ficord battery-run sound recorder; Franz and Freddie with rucksacks carrying food, lights and spare cigarettes. Franz advised us to take plenty of cigarettes as gifts. I carried one of our two Bolex 16mm cameras some lenses and film. Our kit was good, solid, everyday clothing. In 1963 our kit was anthing but flash and we still get a web credit from Grenfell cloth who provided our windproof jackets!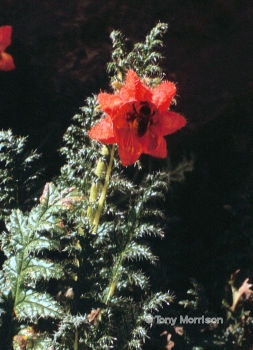 We were dropped off on a stony hillside, barren apart from clumps of yellowing, ichú mountain grass and a few small flowers. We began the walk. Freddy was fascinated by the reddish mineralised colour of the stones and he stopped more than once to examine and collect small pieces. As an artist he drew enormous inspiration from the lines and cracks.
Franz talked about the plants, many of which the Aymara used medicinally or for ritual. One red globe shaped flower stood out. The leaves were spined and the plant stood in clumps about 30 cms high. This was the 'Orquo itapallu' the local name for Cajophora horrida [also as Caiophora] and an infusion made with the flowers was used for colic and enteritis.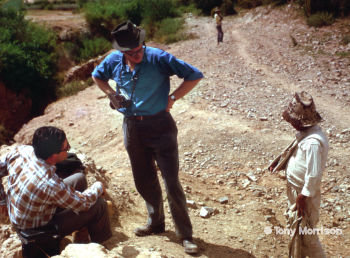 We were within sight of the village when an Aymara man came along the path and Franz who had been born in the mining town of Oruro south of La Paz town had a good knowledge of the local languages and greeted him in Aymara.
Then came a quiet ritual. They sat and talked with Franz offering a cigarette and matches and the man returning the hospitality with some coca leaves and a white chalky lump. Franz took both and looked at the leaves carefully commenting on their quality. Both smiled and the ice was broken. Our walk continued, now with a local guide.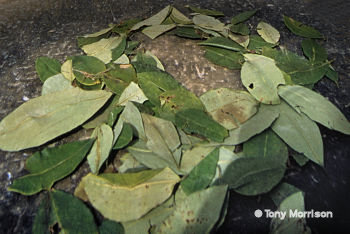 Later Franz told me that the custom was to offer villagers matches as they and cigarettes were something 'special from outside'. The coca leaves were a sacred mild narcotic from the coca plant Erythroxylum coca or 'mama coca' which had been used for centuries by the Andean peoples and the white chalky lump was llicta an alkali made from plant ash turned into a paste with urine and then dried.
The llicta when chewed with the coca releases the narcotic. I had noticed that Franz had been chewing away very happily and getting a good response from our guide.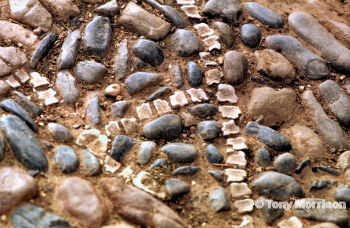 Collana turned out to be a great success. We filmed a small fiesta of masked dancers outside one of the mud brick houses. They were mimicking the Spaniards who had invaded their land.
We filmed some curious cross like markings made with bones in the stony central plaza and we watched the time.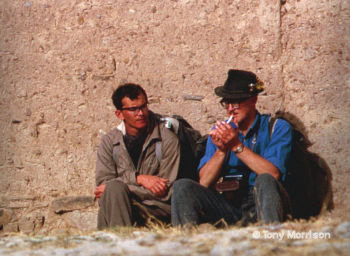 The sun was dipping and the sky around Mt Illimani was turning a chill mauve, the snows on the heights just 17 km away were catching the last of the sun and they glowed perfectly. It was the moment to roll the credits and head for the mule path.
Here Franz is with Mark and they are enjoying a cigarette against the warmth of an adobe mud wall.
The descent
If you have ever stood and looked over the edge of a high cliff.... well indeed ... the path began at the edge and in the darkening view, the river in its latticed shoal-filled bed could just be seen. Think. It was a single-file walk with a gravelly surface and in many places nearly sheer for hundreds of metres. In those mountains the change from dusk to black is sudden and we decided that I should move on with Mark to get to the bottom and find Moises and confirm we were on schedule.
Our destination was Mecapaca a small village of mud brick houses and ichú thatched roofs. If you should consider going there let me say it has changed. In fifty plus years it has become a suburb of La Paz. Or in Real Estatespeke, ' The climate is good ... it is lower and warmer and it is away from the city bustle'. Don't mention the main river and the shallow tributary I had to cross which luckily was almost dry. In the wet season? Don't ask. Mecapaca is in a canyon.

We reached Mecapaca in serious gloom as it had no street lights and followed a narrow rutted and unmade street to the plaza where we found the Land Rover parked outside the village store. Inside and lit by a kerosene light Moises was sitting drinking coffee at a shabby floral patterned oilcloth topped table. We exchanged greetings and waited. After an hour there was still no sign of the others. The full story is in the book Journey Through a Forgotten Empire written by Mark and published in 1964.
In précis - Franz had slipped on the downhill path and broken his ankle. He had to be supported by Allan and and Freddie until they reached a place where Moises and villagers could help them cross the tributary. We arrived back at Franz' home very late and climbed the steps to his house carousing in a drunken unmelodic charade with occasional curses to surprise Eli. Luckily the ankle healed and the story continues.
The Confiteria - Club La Paz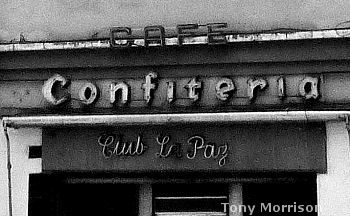 But for the next journey Franz was still on crutches and hors de combat. I met Freddie in the Confiteria of the Club La Paz on the ground floor of a 1930s Art Deco building, now a protected, historic piece of architecture. Possibly the building was one of those in the background to Freddie's sketch of Franz.
In 1963 the Confiteria was the accepted meeting spot for artists, journalists and émigrés of many nationalities. Today it seems to have acquired the reputation of the place where ageing Nazis kept quiet. Maybe it was...... but when I met Freddie the ex-Gestapo set was not obvious.
The coffee was excellent and came from some steep mountain valleys only a few kilometres away. Freddie always chose a cortado or strong black with a touch of milk to cut the acidity. I went for a con leche as I relished the un-treated and rich local milk .

So to planning. Our next film was a Search for a Lost Language set in Carangas Province a wilderness of salt lagoons, salt marshes and a mat of saline grassland at an altitude of about 3,700 m close to the Chile border. By now you will be getting the idea that all our locations were somewhere in the clouds.
The 'lost language' was that spoken by the Chipaya a small group of highland people then numbering less than 1500 who still spoke a dialect of Uru-Chipaya once widespread across the altiplano south of Lake Titicaca.
Freddie arranged for me to meet Julia Elena Fortún, Bolivia's leading anthropologist and folklorist who suggested the Chipaya had sought refuge in the wilderness in the face of the dominant Aymara and the invading Inca. And from Julia Elena I was put in touch with the Bolivian Cinematografic Institute and Jorge Ruiz . Bolivian film-makers had a special interest in the Chipaya people, as Jorge Ruiz who was one of Bolivia's leading directors had made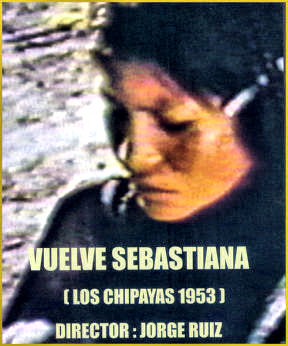 a short ethno-drama with them in 1953.
The Institute was in Calle Ayacucho another steep street close to Franz' laboratoy so I went along to the small screening room where I saw Vuelve Sebastiana
Vuelve Sebastiana
Vuelve Sebastiana [Come back Sebastiana -28 mins ] was a story about a young Chipaya girl, who became involved with an Aymara and had left the village.
By 1953 Ruiz was making films with ethnic actors and in the case of the Chipaya he also involved a French anthropologist Jean Vellard who had spent time with the group. The 1950s were a time of great political tension in Bolivia and Ruiz's films showed much of the struggles over the land.
We viewed Vuelve Sebastiana which has since become a landmark in Latin American film-making. But our production had no deeper pretensions than being a way-of-life documentary set in the Carangas wilderness and Ruiz's film gave us a good idea of what we would see. To help us on our way we were granted temporary membership of the Instititute.
Onwards to Chipaya
All the preparations led us 225 kms south from La Paz to Oruro, a dusty, and in winter a bitterly cold mining centre to where Freddie's parents had moved in the 1930s.

In 1961 the South American Handbook was the guide book for serious travellers. 'Oruro can be reached by express train from La Paz in eight hours. Hotel: Repostero. There is little to interest the tourist'. By 1963 not much had changed and we would travel by the dirt road from La Paz which with a couple of stops could be done in about an hour less than the train. We stayed at the Repostero - an unmissable experience.

My other memories of Oruro in those days are hazy except we had to fill four jerry cans with extra fuel and at Freddie's insistence stop at a tiny hole-in-the-wall restaurant for a meal. Looking back I feel Freddie must have wondered what lay ahead with a Land Rover stuffed with sleeping bags and dried food.

We ate well in totally unpretentious discomfort. The ubiquitous floral oil cloths covered the tables, the other diners wore thick dull brown overcoats and some wore hats. It was cold. A vintage upright oil heater emitted a vague warmth and a smell of kerosene - thinks? Maybe that's my lingering image with nostrils still quivering. But the food was five star excellent. The roasted mutton came from sheep grazed on the salty grass of the nearby plain - deliciously flavoured and tender.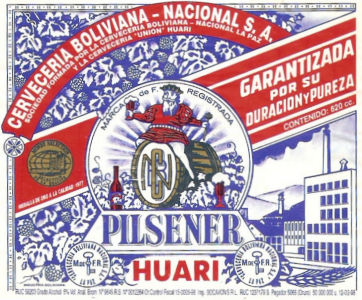 These days, this local mutton, roasted, as a stew or fried is recommended as an expensive delicacy in Oruro's restaurants but for us in 1963 it was a substantial meal and our last for almost a month. The potatoes were local, yellowish and boiled and the spicy sauce llaqway uchu a name from Oruro's Quechua ethnic heritage simply tickled the palate. It was as memorable a meal as any traveller could wish for.

Did we have wine... I doubt it even though the street-side stalls displayed wicker covered demijohns of Chilean Underagga both tinto and blanco. I kept to the Huari Pilsen a German beer made about 100 kms further south at the edge of the Azanaques hills and reckoned to be the best in Bolivia.
Our next stop was Santa Ana de Chipaya the main village 160 kms away. We crossed two rivers - survived one serious 'bogging' and several hours digging to get out and then after about a day reached a village of thatched round houses built of salty earthen sods.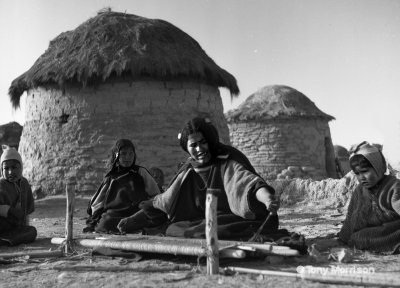 We filmed ancient burial towers or chullpas complete with corpses still half-wrapped in hand woven cloth from a bygone era. Dark brown plaited hair covered some skulls.
We filmed the daily life as much as we could see, including hair plaiting, the women weaving and made recordings of Chipaya music. The men were noted for their skill using ancient bolasses for catching flamingoes in flight... and we were filming in colour even though the TV transmission of the early 1960s was still in black and white.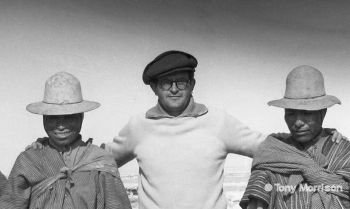 Freddie with two Chipaya men wearing their traditional tunics and domed felt hats
Freddie helped us to understand the Spanish to Chipaya dialect but his days were spent collecting rocks especially pieces of the ancient sun drenched 'desert pavement' wherever it appeared.
His best pickings came from the volcanic hills behind Escara an Aymara village 20 kms away to the north where being foreigners we had to check in with the Police Post. The frontier with Chile and a line of great volcanoes was less than 100 kms away across a near trackless wilderness.
Later in the year our filming led to parts of the Amazonic lowland but neither Freddie nor Franz joined those adventures. Franz took a short contract working for The Institute for the Study of Man in New York. Freddie was raising a family in La Paz and was appointed Artistic Director of Artisanias Bolivianas [covering arts and crafts] which brought him into the field of the myriad ethnic crafts of Bolivia.
Bolivia again and again
For the next three years I continued to make television films in Bolivia and Peru getting to know the basics of the languages and the history of the people until in 1967 when married to Marion we set out to spend three years filming in the Andes mountains.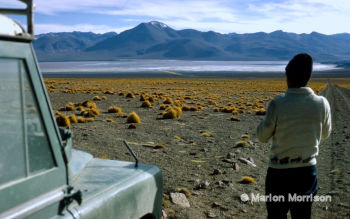 Our first story was for the prestigious Anglia Television's Survival series with its truly global distribution. We set out to scour the wilderness of southern Bolivia for the world's rarest flamingo and other elusive wildlife for Land Above the Clouds a film in colour and a book.
And undaunted by our camping diet of corned beef, carrot and potato stew or the slightly up-market ... very tasty when you are hungry ... Potato with Argentinian corned beef and carrot stew,... Freddie joined us for one of the longest journeys.
To South Lípez
By Land Rover we headed south for more than 700 kms to the now well-known Laguna Colorada, a lake reddened by algae set among volcanic peaks, some dormant and some steaming with activity.
On the way we visited two 17th century silver mining towns. A small community of Quechua people lived in San Cristóbal de Lípez but the people have since been moved to make way for a mega mining project.
San Antonio and the New World
And then to San Antonio de Lipez a ghost town near the frontier with Argentina.The old town lay at the foot of the snow capped Nuevo Mundo - New World - mountain 5,933 m. These days the mountain is often known as Cerro Lipez but on our old maps it was Nuevo Mundo and a superb landmark.
San Antonio had been deserted for almost two centuries and on our visits, (Marion and I had previously been there in 1963) we encountered just one man. He told us he was there to take care of the church and his family lived by herding llamas and alpaca on the plain at the foot of the mountain.
Some beautiful natural art .....and some priceless paintings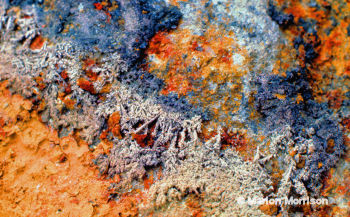 I can recall Freddie's excitement as he found more volcanic rocks and some silver ore slag. The photo on the left shows the striking colours in some of the ore.
The old church was filled with paintings and he was concerned that we should not publicise their value as religious art was finding ready sale in Sao Paulo, Brazil.
A link at the end of this page takes you to a story about San Antonio and a Spanish Colonial painting of The Last Supper. The ancient church collapsed in the 1980s and it's works of art were eventually transferred to Potosi.
The Fiesta of San Juan
It was on the journey back to La Paz when we experienced Bolivian history in the making. We had passed many small settlements where small fires were blazing for the Fiesta de San Juan (Saint John the Baptist) and children were leaping over the flames as part of a pre-Spanish Catholic ritual to mark the June solstice - there it was mid-winter.
Late at night we stopped and camped about a hundred metres from the road and watched as dozens of army trucks passed in a line throwing up clouds of dust shadowing their dimmed headlights. Later we heard that the President, René Barrientos had sent in his special army unit,the Rangers, to quell miners striking at the Catavi mine near Oruro, an event now etched on the Bolivian psyche as the Massacre of San Juan. The number of deaths varies according to the source but it is clear that no quarter was spared for young or old.
Green Medicine
By the end of the 1960s our filming and writing was being turned more to the huge forests of the Amazon basin by then threatened with unremitting destruction. In the 1970s we were back in La Paz many times to make more films and write more books.
During that time with scientific help from Franz and with Freddie as a 'presenter' I began a pilot project on the theme of Green Medicine to explore the ethnic use of plants. Both friends were still working in the capital and on one occasion following an accident, Franz came to the hospital to shave my beard. As he approached me with a razor... one of those sharpened on a strop - I sensed a glint in his eyes.

By the late 1970s Franz, Eli and their two children had moved to Germany where he had a good contract with Boerhinger-Mannheim a pharmaceutical company. We met once in London when he was attending a conference. Freddie was in La Paz and by 1978 was the National Director of Bolivia's museums. Then in 1979 Freddie was in Paris studying French and more art from which time his career as an artist took serious shape with exhibitions all over Latin America. With the exhibitions came awards and fame as one of South America's leading painters.

After some years in Germany Franz retired to Santa Cruz de la Sierra the capital of lowland Bolivia which luckily for me was the base for our Amazon film-work. Santa Cruz had useful air, road and rail connections so I visited Franz and Eli once or twice a year and learnt that Franz had an obscure heart problem which meant he had to avoid returning to the altitude of La Paz.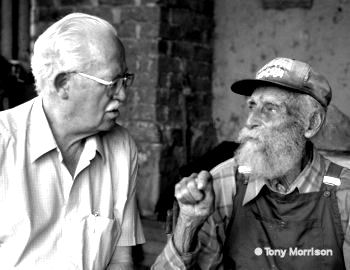 But his enforced lowland life gave me the chance to persuade him to fix a meeting with Hans Ertl who by the 1990s was living a hermit-like life on some forested land towards the Brazilian frontier. Ertl named his plot La Dolorida - the grieving - possibly for his daughter Monica. His favorite daughter had met a very sad end.
But Hans Ertl and La Dolorida is another story. Our meeting in the forest retreat was a great success and I captured many shots on my ten year old Leica. 'Oh that's a beautiful Leica,' Ertl commented 'Let me show you mine. I used it at Stalingrad'.
Freddie's book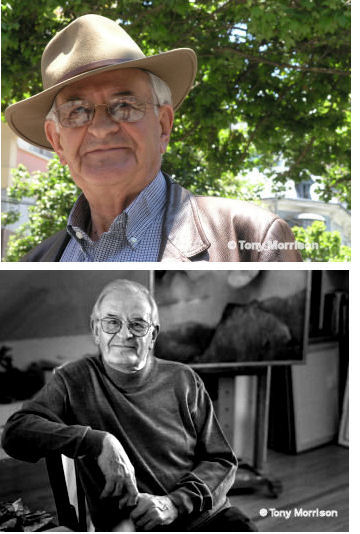 Back in the mountains I called on Freddie in 2004 and we met in a small cafe in 20th October street by then a favourite of artists and writers as the old town and the Confiteria were no longer the centre of gravity.
Freddie looking very fit and he presented me with his book titled Alfredo La Placa from a series based on Bolivian Contemporary Painters.
In the short biography he mentioned our travels together. Then in one of the introductory essays Gerard Xuriguera writing from Paris commented on Freddie's work as it drew themes from the earth, with its rich organic life and fascinating geology - ' La Placa' he said was a traveler with an erudite curiosity'.
I think we could endorse that idea with no trouble at all. Freddie was a marvellous companion - he gladly suffered our expedition cooking and most evenings would produce something he had found on the ground. Then in the ways of a student seminar we would discuss and dissect - usually over some ice cold Huari Pilsener.
In 2013 fifty years after Marion and I had met in La Paz we returned to Bolivia and took Freddie and his wife Rita del Solar, a Bolivian celebrity hostess and fabulous cook, with a few old friends to supper in a tiny Italian restaurant close to their house...... I hesitate to think what Rita would have said about the potato and carrot stew Freddie had to eat on our journey to Chipaya fifty years earlier.
Freddy was hobbling from a broken ankle suffered on the steep street outside their home near the tiny and very quiet Monticulo Park in Sopocachi, an old part of the city. Some time later he and Rita moved from the steep street to an apartment on level ground. In October 2016 he presented an exhibition in La Paz which he titled Red and Black and dedicated it to saving the Earth. He died aged 87 on December 31st 2016 and his legacy will forever be in his paintings.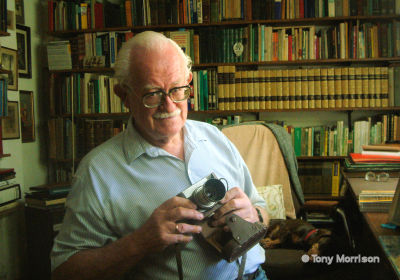 Here on the left Franz is with his classic Zeiss Werra 35mm still camera - made in East Germany in the 1950s. It was one of the leading post war designs.
The lens was a true Zeiss classic though mildly scratched from Franz's forest travels. Only the lens cap was missing - maybe he lost it on the Collana adventure?
After I had taken this picture on a digital camera , Franz said 'Well this ancient film camera will be a relic - maybe you would like it for your collection? It has pride of place in my study.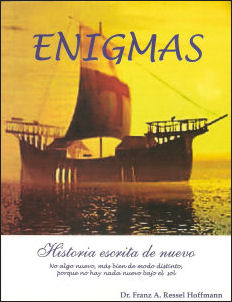 Franz died from cancer in 2009 in Santa Cruz and we learnt that he had spent his last years tidying his research and writing a small book - as he said 'rewriting history'. He always said 'Everything must be questioned and no stone unturned to find the truth'.
Franz had published Enigmas in 2008 and signed a copy for me. Before his death he put aside a pile of his collection marked 'for Tony' - some books, papers, photographs,and memorabilia.
Perhaps the greatest treasures were his 1950s pictures and memorabilia from the Beni part of Bolivia when he made his journey with Hans Ertl to the Sirionó.
All life is beautiful
When we called on Eli in 2013 she told me how Franz had accepted his cancer. It seems he had obtained a sample of his cells and seen them under one of the best microscopes in Santa Cruz. 'Beautiful' he murmured as he was entranced 'All life... even my cancer is beautiful'. Franz was 80.

Postscript from Tony and Marion

I feel we can look back with wonder to many fascinating adventures, hours of compelling talk and inspiration with these very close friends. So that is one answer to Why Bolivia? And now looking forward?
There will be more chapters and plenty of pictures.
SEE The Last Supper of San Antonio,
TO COME A Chipaya gallery, [pictures]. Hans Ertl and the Siriono, Lizzie and the Lost Empire of Nicholas Suaréz,


Some data for Santiago de Collana

Height 3790m and 17kms from Mount Illimani
Coordinates 16 40 10 S 67 57 54 W
Descent of 946m [3102 ft] to Mecapaca 2844 m
Mark Howell - Journey through a Forgotten Empire published 1964
Background for Vuelve Sebastiana - Testigo de La Realidad the work of Jorge Ruiz by José Antonio Valdivia , Bolivia 1998
Background for the Sirionó- Nomads of the Long Bow by Allan R Holmberg, Smithsonian Institution ,
Lost film - Our colour film of Chipaya was lost in a processing laboratory in the 1970s and Hans Ertl's film negatives were lost when the trailer to his tractor toppled into a river in his forest retreat. That was, also sometime in the 1970s
The Werra camera given to me by Franz Ressel in 2004
For two totally different reasons this camera is a treasure.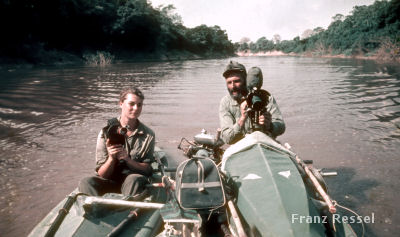 The first is its connection with Franz and his journeys in Bolivia. - More on that by starting at the top pf the page
1957
In 1957 Franz accompanied Hans Ertl, his daughter Monica and Walburga Mõeller on a filming expedition to the upper reaches of Cocharcas river, an Amazon tributary in Bolivia. See picture right.
The expedition was to make Hito Hito the first film record of the Sirionó - a forest tribe.
Franz took many colour pictures on this Werra using the German made Agfa reversal film but after 60 years with many of those in the tropical climate, the colour has 'shifted' more to red. We have digitally restored some of the best. Here you can see Monica Ertl and her father Hans in their German built Klepper boats - light and collapsible canoes supplied specially for the Hito Hito expedition
In 1958 Franz provided the English and Spanish translation for Ertl's book Arriba Abajo, published in Germany and still available 'used' The film Hito Hito is harder to find
Then came the Collana visit described at the beginning of this page and doubtless Franz made many other journeys while he was working in highland Bolivia. We know he took many photographs of medicinal plants as he gave us his collection You could say this Werra has 'been around'
The Second Reason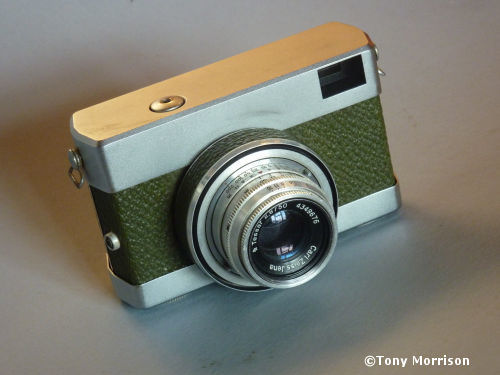 Now to the second reason why the camera is a treasure.
Werra cameras were made by Carl Zeiss in Jena, East Germany - remember in post-war Europe Germany was divided into East - controlled by Russia and West by the western powers.
The name Werra comes from a small river in the Wesler river basin of central Germany.
Zeiss lenses are outstanding with a pedigree dating back to 1846 and in post-war years Russia took moved much of Carl Zeiss,Jena production to Kiev in the Ukraine.
But I believe this Werra was made in Jena by German engineers and its design as you can see was sheer uncluttered simplicity.
This Werra 1 has the classic Zeiss 50mm Tessar lens with an f 2.8 aperture. A brilliant - amazingly so, piece of optical engineering.
The shutter controlling the passage of light through the lens to the film is an East German Vebur and is 'cocked' - or prepared for action by half rotating that large leather covered cyclinder from which the lens protrudes. The metal protuberence on the camera body left side in the picture is the connector for a flash cable
The satin chrome top of Franz' Werra is slightly scuffed above the lens where his hand rubbed when winding the leather covered cylinder. . But the whole design including the satin chrome the lens cover and lens cap could have come straight from a Bauhaus drawing board of Germany in the the early 1920s. The lens cover is reversable and doubles as a lens hood /shade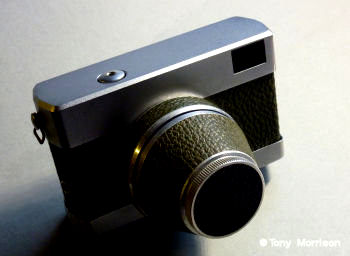 Bauhaus
Bauhaus designs were notable for clean very functional lines without any 'frills' and in this sense the Werra is unique. Most cameras of the era and even now have knobs or dials - the more the merrier and 'must haves' for some enthusiasts
Franz' Werra is the Werra I the first of the series dating from about 1956.
As the 1950s moved on into the early 1960s other models were introduced.The market dictated 'extras' such as built in light measuring a rangefinder or lenses which could be changed to allow for telephoto or wide angle pictures. The last of the series was the Werramatic E of 1966.
If you are looking for the extra lenses they are expensive [2016] but I'm more than happy with this wonderful memento of a very great Bolivian friend - and the camera's remarkable life.