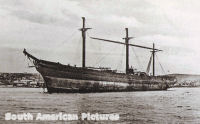 Great Britain in Stanley Harbour ca 1900
The SS Great Britain was launched in Bristol, England in 1843 as the first ocean going, propeller driven steamship. After an eventful career the ship was changed to a sailing ship in 1882 and in 1886 was disabled by a storm close to Cape Horn at the southern tip of South America.
The Captain decided to take shelter in The Falkland Islands / Islas Malvinas and the Great Britain arrived in Stanley Harbour in May 1886. Enough costly damage was recorded to ensure the Great Britain would never sail again.
Cursor over the image to see Sparrow Cove