…..Take a team of six graduates, two British-made 4 x4s with endless support from the Austin Motor Company, dozens of sponsors, the enthusiastic backing from a university in a great city and you have an expedition to drive around the world.
Thirteen months, twenty countries and about 48,280 kms/ 30,000 land miles later and it became a 'first'. The Around the World journey had never been done in that way before and certainly never with a Wrayflex - the first and only British made single lens reflex [SLR] camera ………….

In Part One we had driven overland from England to India where we stayed for two months in three villages so our academics could study the social and rural economics. By the end of December 1960 we had completed the work and we headed south to Ceylon - now Sri Lanka. We had a fixed schedule to board a Dutch liner in Colombo for a month long journey to the west coast of South America.

Film was expensive so every shot was considered. I used a hand held meter to calculate the amount of light available and adjust for shadows. Each change of lenses say from the standard Unilix to a wide angle or telephoto took a minimum of 30 seconds. Changing film at the end of a 36 picture cassette took four minutes or more in bright light when I had to find shade.

January 6th 1961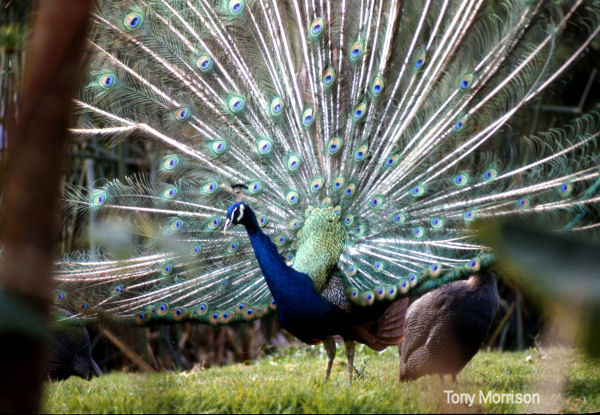 India, Bandipur Wildlife Sanctuary near Mysore, southern India. We hoped to see a tiger but had to accept one deer and a fabulous peacock.
January 8th 1961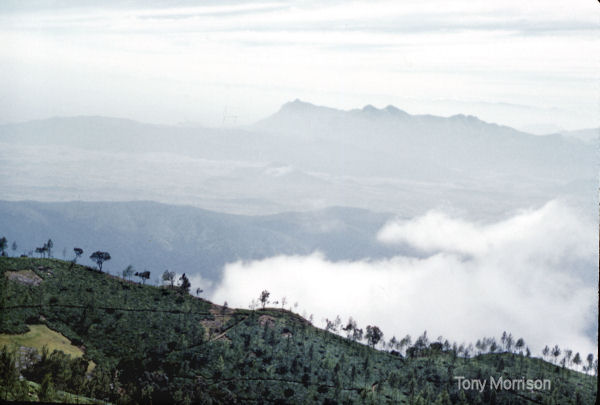 India , In the Nilgiri Hills in Tamil Nadu state - we were there to see a tea estate. This view looks to ranges over 2500 metres / 8200 feet high . Although the ages old tea estates have cut into the ancient forests the Nilgiris are part of the UNESCO backed Nilgiri Biosphere Reserve.
January 14th 1961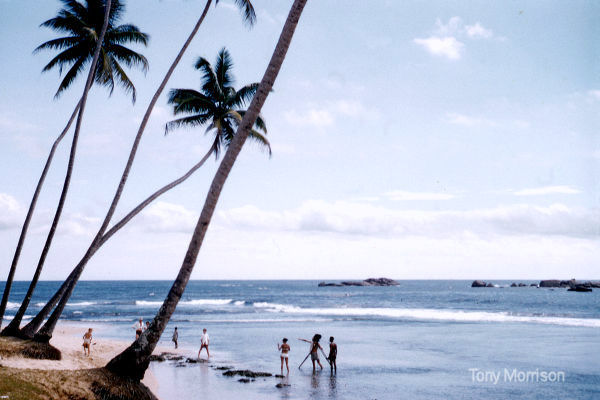 Here at the southwestern tip of Ceylon / Sri Lanka we were to meet Arthur C. Clarke a British science fiction writer who had settled there in 1956 and his business partner Mike Wilson a film-maker. Arthur C.Clarke perhaps best known for his co-writing of Stanley Kubrick's 2001 - A Space Odyssey [1968] was filming the reefs for a sunken treasure story.

18th January 1961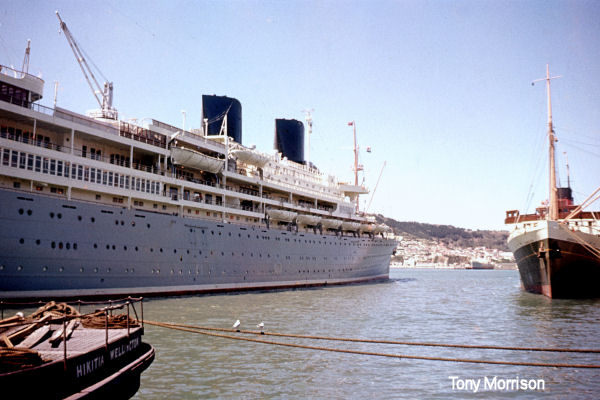 In Colombo, Ceylon / Sri Lanka We boarded the Dutch liner the MV Willem Ruys - we had booked well in advance as the liner was on a round-the-world service mainly for European immigrants bound for Australia and New Zealand and from there Austalians and New Zealanders heading to Europe.
This picture was shot in Wellington - New Zealand and is here as it is the only distant picture of the ship I took on my Wrayflex
Tech apology -The ship is distorted visually because I used the Lustrar wide angle and I was not accustomed to w/a shooting
In later years the Willem Ruys changed ownership and became the Achille Lauro and hit the headlines when the Palestine Liberation Front hijacked it in 1985 and brutally murdered a disabled Jewish American passenger - Leon Klinghofer. The ship's bad luck concluded when as the Star Lauro it caught fire and sank off Somalia in 1994. For me....the Willem Ruys was good news so sad RIP.
January 22nd 1961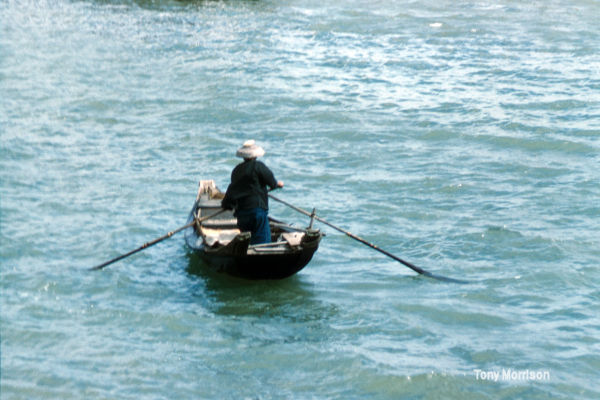 Singapore, A sampan in the harbour during a brief stop in Singapore which then was still part of the British Empire though self governing.
How times have changed from sixty years ago when it was a small port at the tip of Malaya.

January 23rd 1961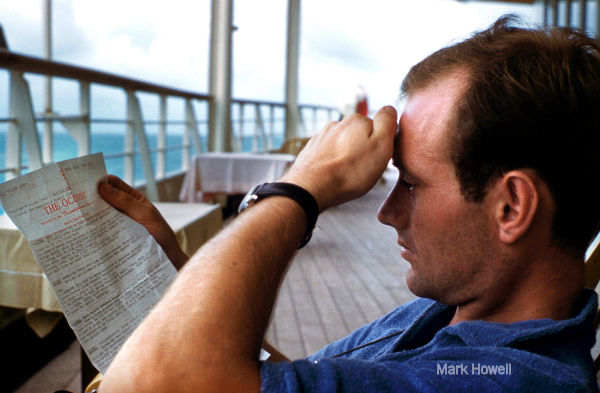 On the deck of the Willem Ruys and about to cross the Equator going southward.
I am reading the Ocean Post News [sent to the ship by wireless].
January 31st 1961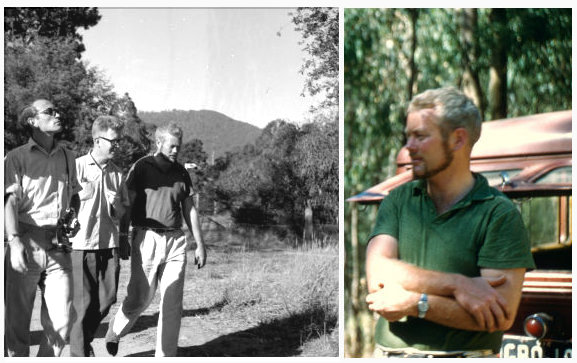 Melbourne - Australia. Here we were met by Jim Davern who was working for ABC TV. We had met Jim in Mashad, Iran when he was making his way home from a stay in London where he had been on a six month attachment with the BBC

Jim took us to the Dandedong Hills and the Healyville Sanctuary. The black and white picture was taken on my Microflex camera [my British made TLR 6 v6 cms]. Jim is on the right with Don Pilton our doctor and Peter Krinks - left

Since those early years Jim Davern has scripted, directed and produced some of Australia's most popular television programmes and in 2014 he was awarded the Order of Australia Medal [OAM] for his creative work.
February 3rd 1961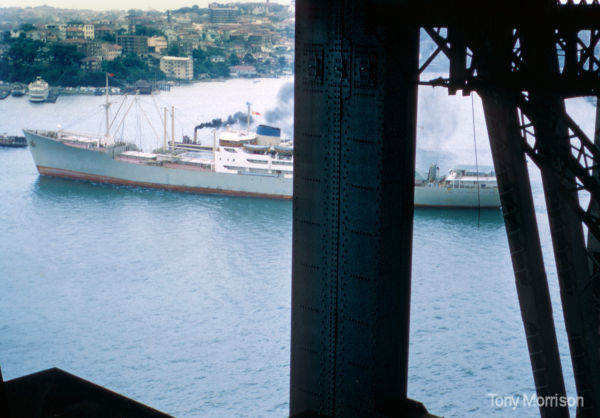 Sydney, Australia. Picture taken from high on the Harbour Bridge - my diary notes do not record from which lookout point.
February 8th 1961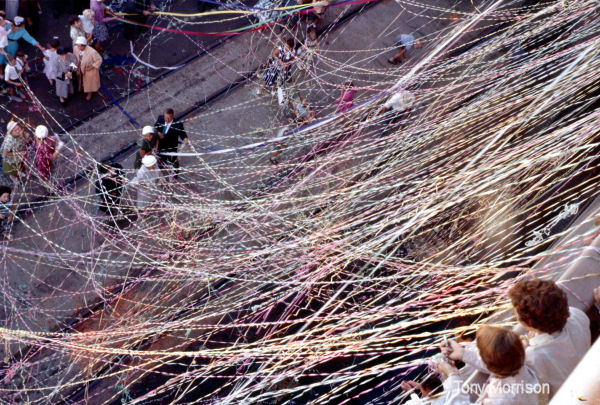 Wellington, New Zealand An unforgettable departure from Lambton Quay with hundreds of paper streamers cast from the travellers on the Willem Ruys to families and friends on the dockside.
As the ship moved away the streamers parted symbolically breaking the ties - some were to be for a few months and some for years.

I feel I must add that leaving anyone was a powerful experience - contact for most people was by letter. Telephony existed but often was dodgy with long waiting times for a connection.
February 14th 1961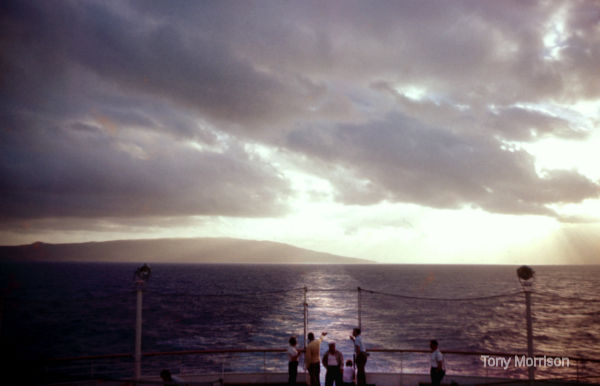 Easter Island in mid-Pacific is astern.
In 1961 this island was out of reach to most travellers and still had the romantic aura described by the Norwegian ethnographer Thor Heyerdahl.
Heyerdahl's Aku Aku was published in 1957 after his studies of Rapa Nui - the people of the island [1955-56].
Heyerdahl was already known for his 1947 Kon Tiki raft crossing of the Pacific using ocean currents. After our comfortable crossing all I can say is …Wow what a trip that must have been!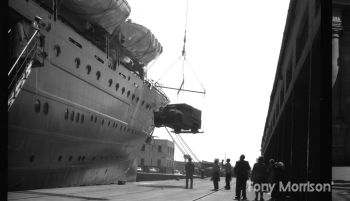 February 19th 1961 Arrival in Callao - the port for Lima Peru, where we unloaded our vehicles and supplies. This picture was not shot on the Wrayflex. It is a 35mm on a Leica lllg on loan from FG Warne a Bristol photo dealer.
February 26th 1961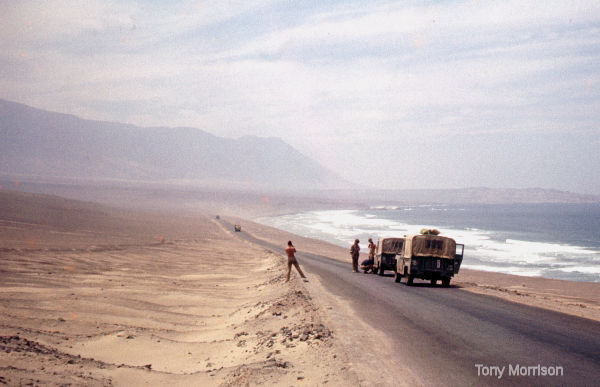 We were freshly organised and heading south on the tarmac Pan American Highway which runs through the coastal desert, one of the world's driest places. The Pacific Ocean is on the right and the foothills of the Andes mountains on the left.

February 28th 1961
Naturally eroded rock in the Peruvian desert. The Pacific is out of the frame and the Andean mountain foothills make the backdrop
Sand blown by the daily wind was responsible for the erosion and passing truck drivers added the facial touches.
March 2nd 1961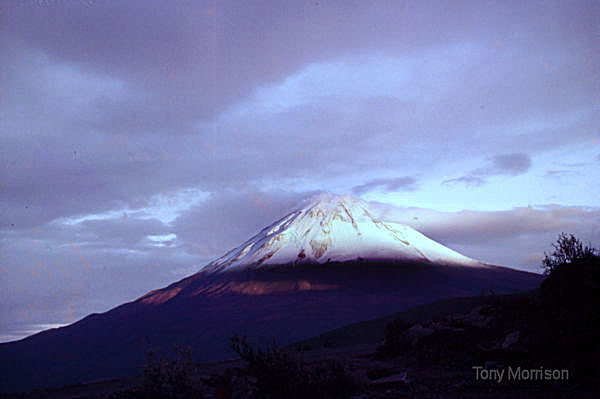 At dawn we had a surprise as we had been camped at a roadside with a perfect view of the volcano El Misti 5,822 metres / 19,101 feet.
We were driving up the western slopes of the Andes to cross into Bolivia for a two month project observing the United Nations at work with the indigenous people.
March 4th 1961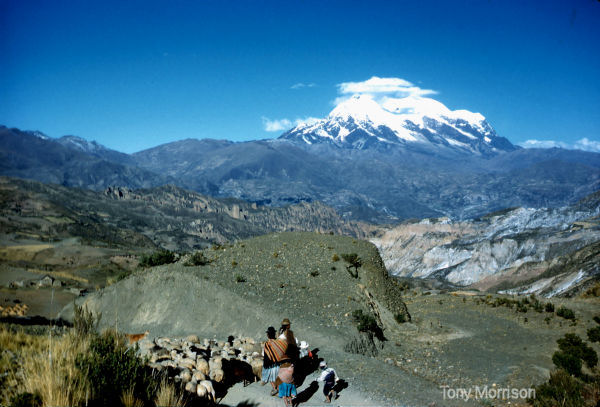 We arrived in Bolivia where the administrative capital La Paz is set close to Mt Illimani 6,438 metres / 21,122 feet.
In the foreground an Aymara family on the road to Palca - then a small village and now a suburb of la Paz.
Beyond the mountain the land slopes steeply to Amazonian jungle and for the first time I sensed I had reached a starting point for a career.
March 1961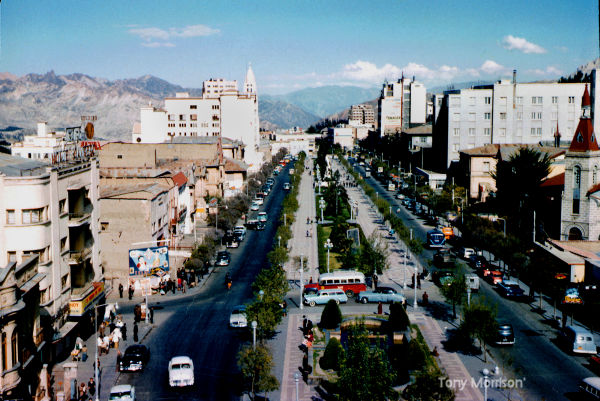 Bolivia, La Paz - The 500 metres long Paseo El Prado which from the early 1900s was the place to walk among trees - to admire statues - fountains and fine houses.
By 1961 two hotels flanked the space and today....it's high rises all the way.
This picture was shot on Kodachrome using my Wray Unilux 50mm 2.8 lens.
In high resolution the people are pin-sharp and on the left one advert board for Agfa film is very clear.
31st March 1961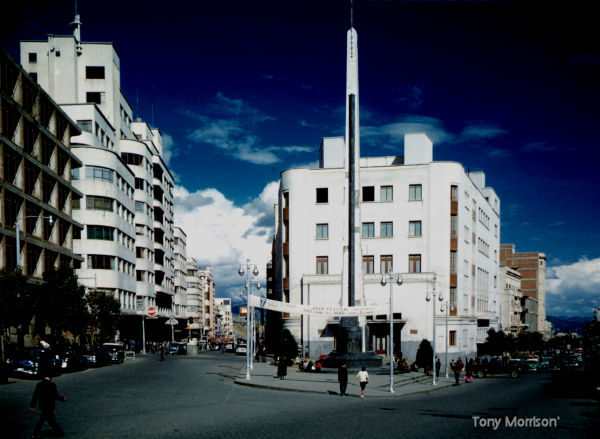 Bolivia , La Paz - The old city is out of shot to the left and higher.
In the late 1930s Avenida Camacho centre left was developed and extraordinary Art Deco buildings were built.
The snow capped Illimani mountain is distant in cloud at the end of Camacho.
On the left is the Hotel La Paz and offices designed by the Yugoslav architect Ivica Krusul.
On the right is the Club La Paz now protected as a Municipal Heritage Building.
All this is now grey from age and lost within a profusion of high-rises and slow moving traffic.
March 15 1961 Pilllapi and Margaret Anstee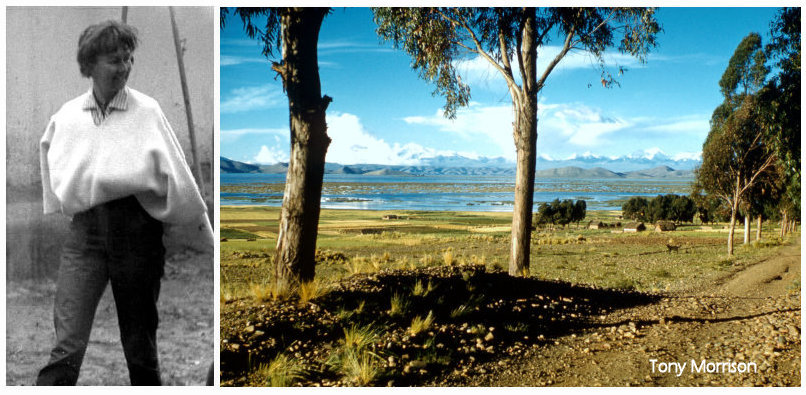 Our team was based in Pillapi an old hacienda [farm with tied families] near Lake Titicaca. The view was spectacular to Cordillera Real where some peaks touch 6000m.
The Pillapi hacienda was taken over by the Bolivian State following the National Revolution of 1952 and the Aymara people were given their own land. When we were there the farm buildings were being used by a United Nations Andean and Bolivian Government Programme [Acción Andina] to take education and health care to the local people.
Margaret Joan Anstee was the UN Head of Mission - here visiting Pillapi. As her career developed Margaret rose to become an Under-Secretary-General at the UN - the first woman to hold the post and in Britain, her home she was honoured as a Dame Commander of the Distinguished Order of St.Micahel and St.George.
[I provided many pictures for her book The House on the Sacred Lake 2009]
10th April 1961
Bolivia, One of country's best known features is the Altiplano a high plain set between the Andean moutain ranges.
Here the main railway crosses the Altiplano at an altitude of about 3650 metres/ 12,000 feet and the local Aymara people would wait for a train, not to climb aboard but so they could sell food or woven goods to the passengers.
April 1961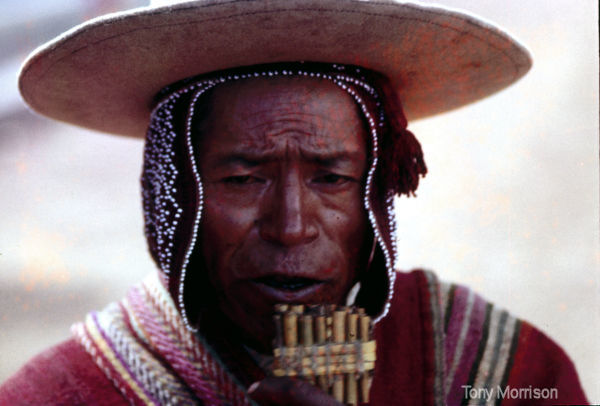 Bolivia The Quechua people of Bolivia are mostly from the mountain valleys to the east of the Altiplano.
We were welcomed at several fiestas with music during our journey - here the panpipe player is wearing a rich red handwoven poncho and a knitted cap decorated with tiny beads.
April 13 1961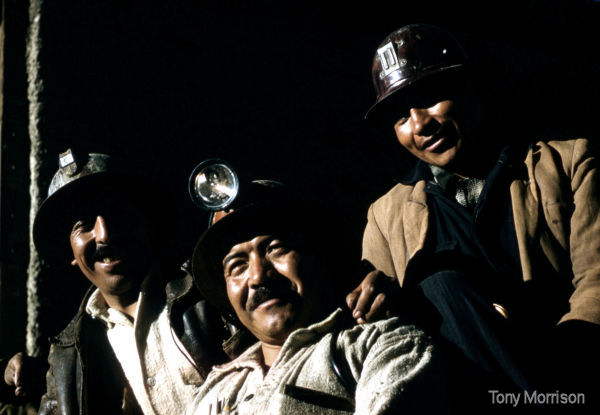 Bolivia, As part of our study of the United Nations work we visited Huanuni a small settlement for mining families.
Way beneath the ground is said to be the world's largest deposit of cassiterite - a tin-ore.
April 18 1961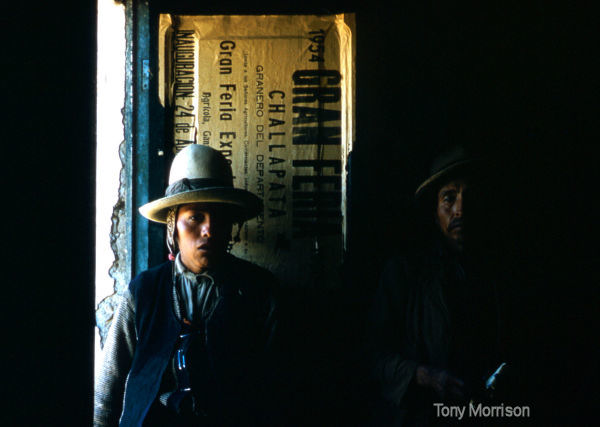 Bolivia, Challapata - This village was a memorable stop. We found a small shop where a Señora Segundina made coffee and I grabbed a picture of two Quechua country folk.
We were an hour along the road when Mark Howell realised he had left his miniature tape recorder at the table. We raced back … and the recorder was there untouched.
May 5th 1961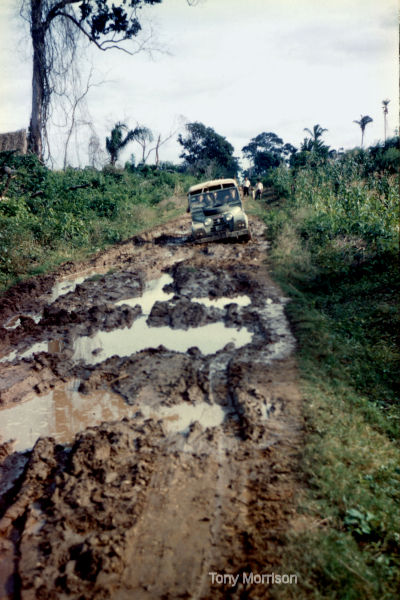 Bolivia near Cotoca in Santa Cruz department. We were on the fringe of Bolivia's Amazonia where people, mostly Quechua from the mountains were carving out a new life.
Heavy rain over twenty four hours left the earth road virtually impassable and it took 11 hours to cover 25 kms/ 15 miles. All around the Amazonian forest was being cleared by settlers.
May 5th 1961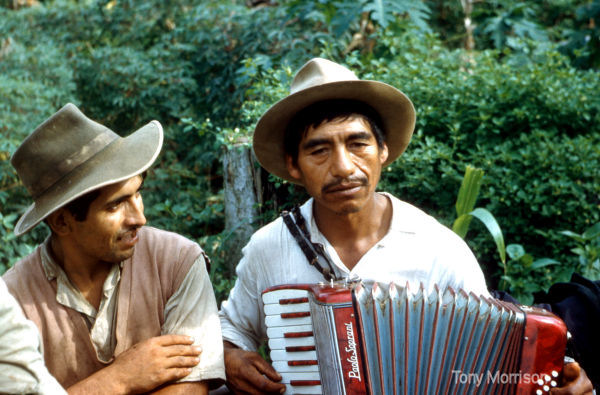 Bolivia Settlers in Cotoca
Today the settlement has grown to a prosperous town of 46,000 [2018].
May 11th 1961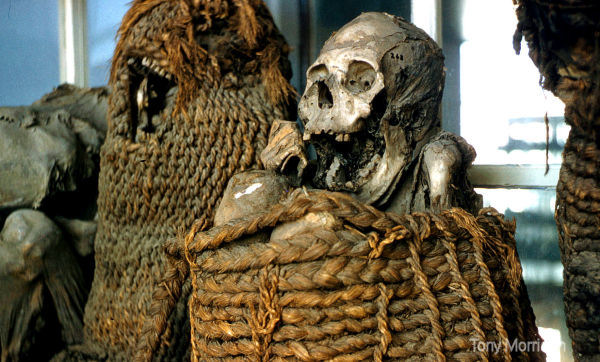 Bolivia Cochabamba This skeleton in a basket was in the University Museum in Cochabamba, then Bolivia's second city.
This way of keeping an ancestor was common among the early people of the Andean region.
7th June 1961 We had finished our studies and left Bolivia to head north on our way home

9th June 1961, Peru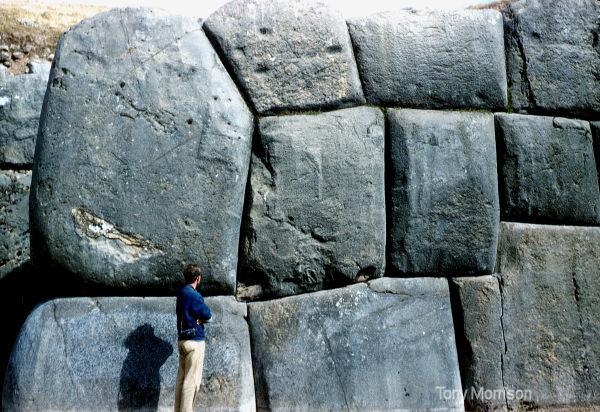 Peru near Cusco - Here, Peter Krinks is standing beside one of the massive, hand-shaped and hand-moved Inca stones of Sacsayhuaman on a hill overlooking Cusco
10th June 1961, Peru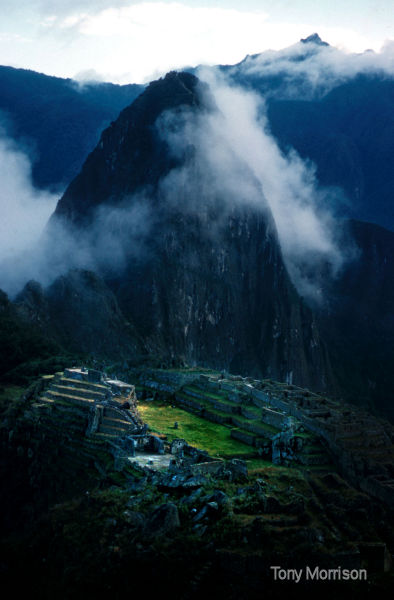 Peru Machu Picchu, the ruined Inca mountain settlement is now visited by over 1.5 million travellers every year. In 1961 we camped on a hillside and at dawn we were alone.
Today camping is prohibited and access is strictly controlled.

10th June 1961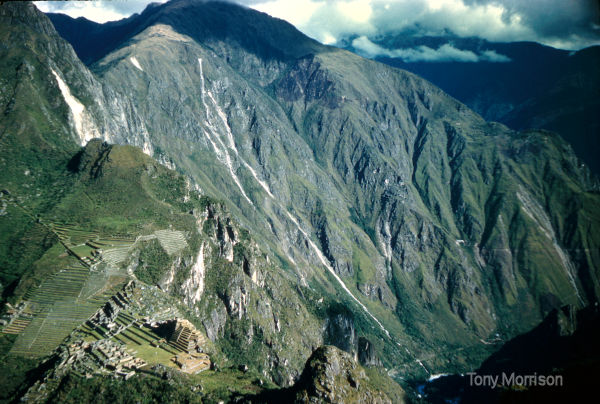 Peru Machu Picchu looking down from the top of Huayna Picchu the hunchback peak in the previous picture.
The settlement with its temples, stairs and terraces has a planned layout of four quarters.
17th June 1961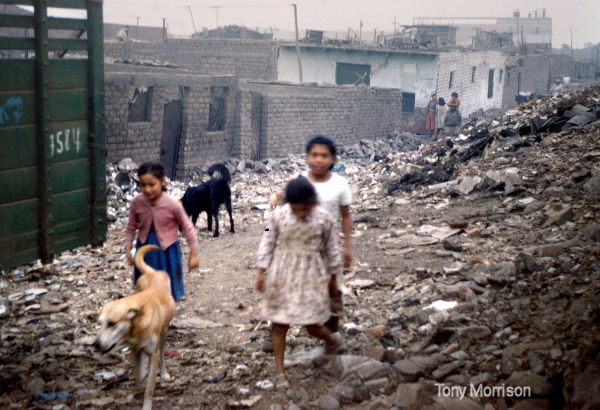 Peru Lima Our route northwards took us via Lima where massive poverty-stricken urban growth was beginning.
I spent a day in one of the barriadas [slums] where people lived by sorting rubbish. Today the barriadas are enormous and known as pueblos jovenes [young towns] . Look at Google Earth
26th June 1961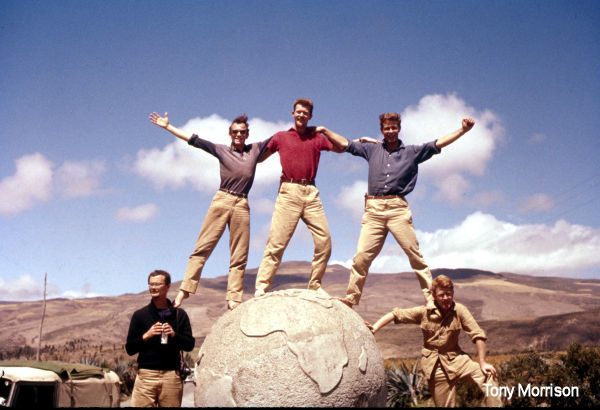 Ecuador - just north of Quito. We crossed the Equator and the team gathered around the Globe Monument marking Latitude Zero.
The Wrayflex did not have a selfie system built in so I'm not in the picture.
27th June 1961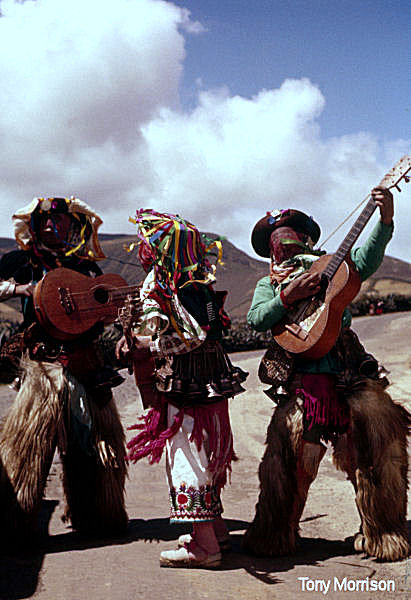 Ecuador In wonderful Andean countryside we met these country folk on their way to a fiesta aka traditional party.
The leggings are from sheepskin to keep out the cold and the white trousers are hand embroidered.
2nd July 1961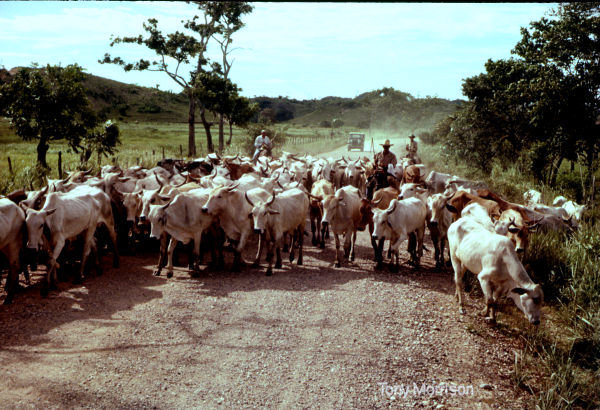 Colombia Now it was the hot country of Colombia in the Magdalena River valley between Andean ranges. Cattle ranching was the local business.
By this point in the journey I was down to the last few rolls of Kodachrome and this shot was on Ektachrome.
The Ektachrome was affected by the heat and the colour has been difficult to 'restore'.

7th July 1961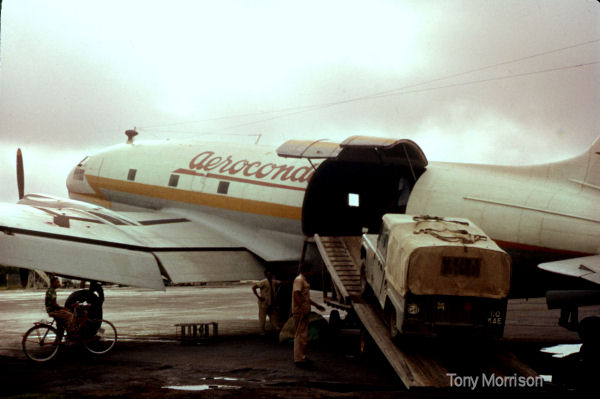 Barranquilla, Colombia. We load our two vehicles aboard a C46 cargo aircraft for a quick hop to Miami, USA.
It is another Ektachrome picture - also difficult to restore.
7th July 1961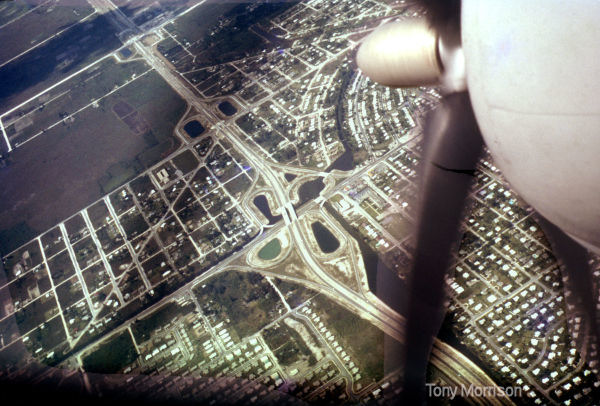 USA, Miami The picture was taken over Miami as we prepared to land.
The flight was so informal that I could shoot pictures from the pilot's cabin. The story is on the Nonesuch site. Google search Nonesuch Barranquilla.
17 August 1961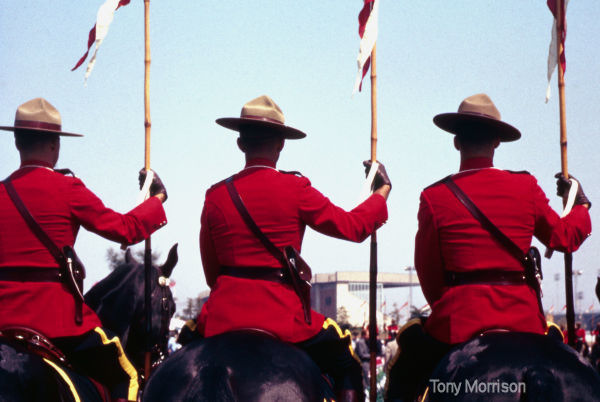 Canada Toronto From Miami we drove north through the USA to Canada where we had a deadline at an International Fair. The Royal Canadian Mounted Police were on duty.
From Canada we drove to New York and Washington. In many places en route we had introductions from the City of Bristol, England and met all manner of people from businesses, local government, the arts, academia and more - this was the third project in our trip.

31st August 1961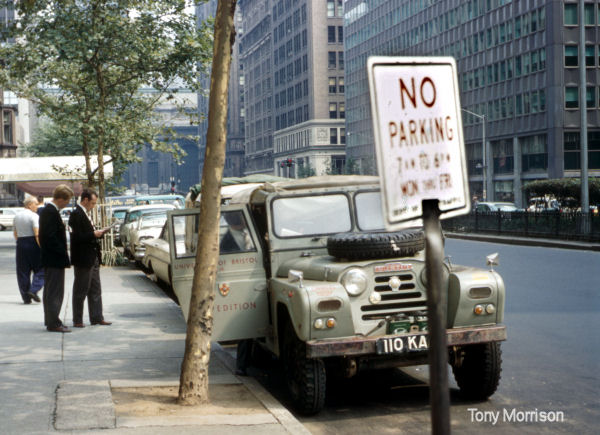 New York, Manhattan In Park Avenue Manhattan and dressed appropriately we are parked outside the British Consulate.
Our two Austin Motor Company Gipsy 4 x4s had made the distance....just!

2nd September 1961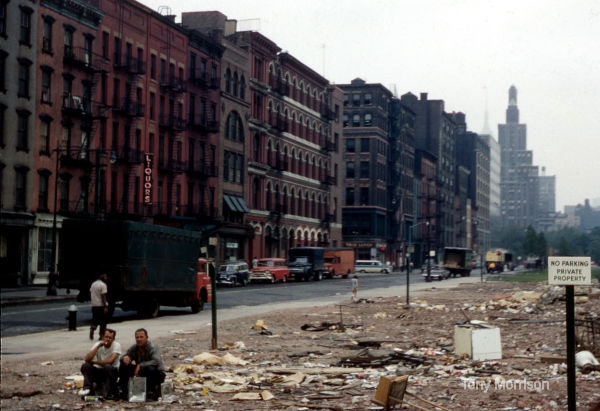 New York, Manhattan Walking about the city took us to this run-down area in Uptown Manhattan.
After thousands of kilometres/ miles of quiet open spaces some of the urban scenes were an extraordinarily depressing contrast.
4th September 1961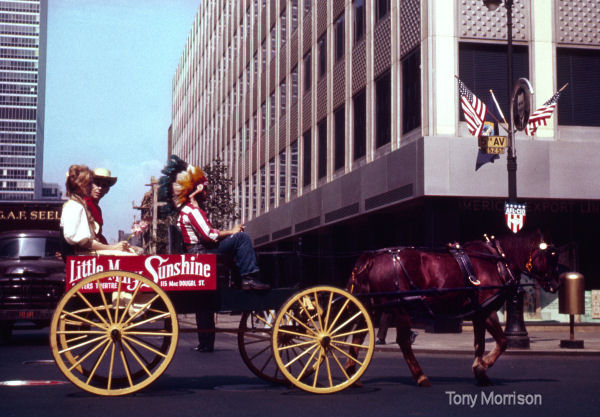 New York, Manhattan 5th Avenue for Labor Day and a parade.
This horse drawn carriage is advertising Little Mary Sunshine a musical at the Off Broadway, Players Theatre.
4th September 1961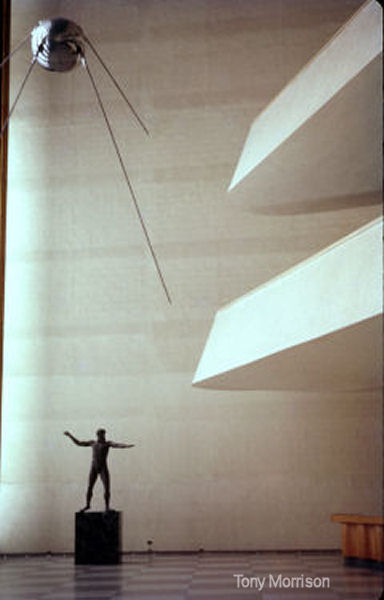 USA New York Manhattan The foyer of the United Nations building in Turtle Bay.
Space was the theme for the foyer and the design overall is credited to the Brasilian architect the late Oscar Niemeyer.
4th September 1961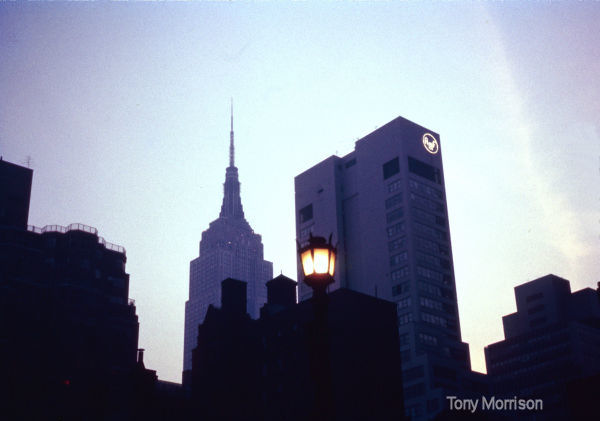 USA New York The unforgettable skyline of central Manhattan.

9th September 1961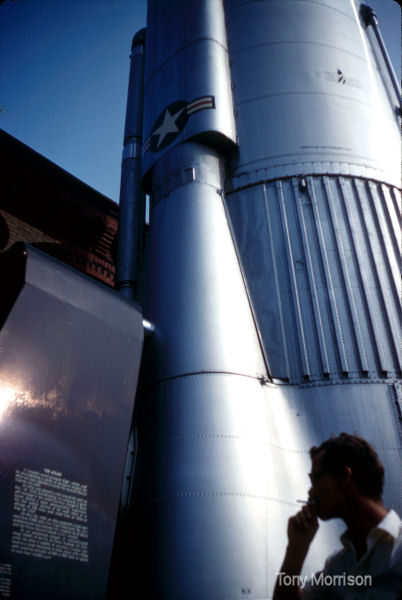 USA Washington A space exhibition at the Smithsonian Institution. Five months earlier the space race had begun with Yuri Gagarin a Russian astronaut in Earth Orbit….. poyekhali!
Mark Howell is smoking a cigarette at the base of a large rocket.

11 September 1961 We were loaded on to the Gloucester City in Baltimore and then spent six days picking up cargo in Norfolk Virginia, before setting out across the Altlantic
17th September 1961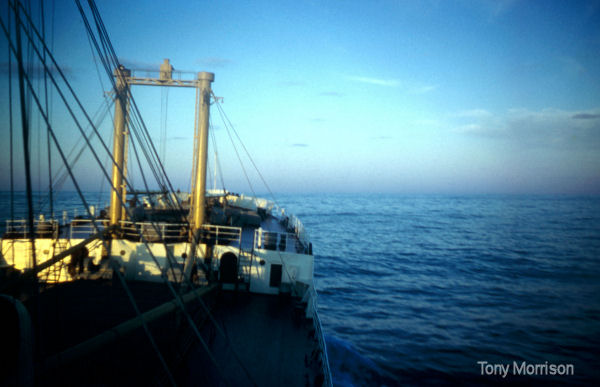 Atlantic Crossing At sea on the Gloucester City a Bristol City Line cargo ship.
We reached Avonmouth, Bristol, England on 28th September 1961
Technical Details

Camera - Wrayflex Model ll

Lenses -Wray Unilux 50mm F2.8 / Wray Lustrar 35mm F 3.5 / Wray Lustrar 135mm F4

Extension rings, a lens hood for the 135mm and UV filter

Film - mostly Kodachrome 35mm [sensitivity 12 ASA ] or Kodak Ektachrome 35mm [Sensitivity 50 ASA ] Both film types were processed by Kodak in Australia, and by a Kodak agent in La Paz, Bolivia from where Kodachrome was sent to the USA. Ektachrome was processed in Bolivia
Light measurement by a separate and hand held Weston Master lll

Flash was never used. I had flash bulbs and an early type of Electronic flash which was very unreliable
For long exposures I used a tripod

For Black and White I used a British made Microflex TLR [Twin lens reflex] and a Leica lllg lent by F G Warne, Bristol.