Tony Morrison writes, 2015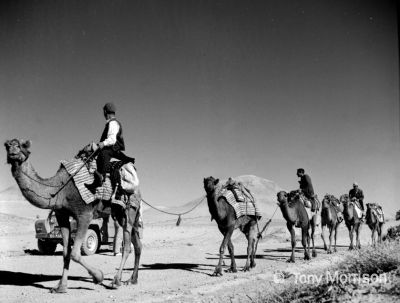 Few titles can be as evocative as The Silk Road. Take some images of camels edging across endless sand dunes. Add some history going back two thousand years or more to a time when priceless silk was carried overland from China to the Mediterranean - What a story......
The Silk Road was not just one route of about 6000kms but more a network of trade paths through Central Asia essentially carrying goods westwards from China.
Great centres of learning grew in fertile oases along the way in the otherwise barren steppes. The routes offered a channel for ideas, for artistic work to be spread and even diseases such as the Black Death to be carried huge distances.
Before meeting Marion in South America in 1963 I had made two journeys along the Silk Road through Turkey, Syria, Iran and Afghanistan. Almost all of it was unpaved and dusty. In places it was difficult to drive and often we met camels walking in file - such as here in 1960 on the route from Meshad in Iran to Herat in Afghanistan.
I sent letters home by post - as one did in those days.
Gonbad - e - Kavus, Northeastern Iran, June 1962 ' We are about 20 miles from the Soviet [USSR] border and looking for tigers. Ahead is the steppe of Central Asia and behind us to the south are the Golestan Mountains - they are superbly forested and could be one of the last refuges of the Caspian Tiger.. ....or so we hope as local biologists say they are extinct. But Ralph has heard from some villagers that just a week ago a fully grown tiger was seen sunning itself on a road. So now we are off on a tiger hunt'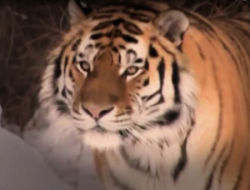 The Caspian tiger in the Golestan forests, even if had been seen on the road was elusive and we were faced with a needle in a haystack problem. Once widespread across parts of Central Asia westward to Turkey this sub species of tiger is now reckoned to be extinct.
Efforts are being made to introduce another sub species to the Caspian forests and the details are on a short film on the web. [On the Trail of the Hyrcan Tiger - an Iranian film on YouTube]
Some of the the Golestan forest aka the Hyrcanian forest or 'wolf land' has protected status as a National Park and a UNESCO Biosphere Reserve. Backed with a desert on one side and steppe on the other the Golestan forest is remarkable for its number of mammal species including the Persian leopard, Indian wolf, wild boar, roe deer and gazelle.
Two Journeys
My first journey along the old Silk Road was with my friend Mark Howell who later became a co-founder of Nonesuch Expeditions. With Mark and four other graduates I drove around the world. See University of Bristol Expedition 1960-61.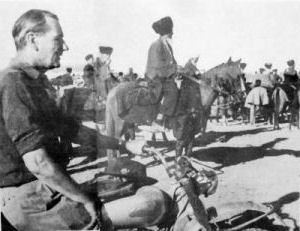 The second journey was filming for a popular BBC series titled Adventure, the brainchild of David Attenborough, then a young producer known for his Zoo Quests collecting animals in far flung places.
My job was a 'dream come true' work experience with two celebrity experts of the day. Ralph Izzard - riding the motorbike in the photo taken with Turkmen horsemen was the backer of a small TV production company based in London, England. Ralph had been a Daily Mail Foreign Correspondent for most of his life and knew his way around, especially in the Middle East and Asia. Tom Stobart was the creative director and had been a colleague of Ralph since 1953 when they met on Mount Everest. Tom had filmed the first successful climb of the mountain. Both received awards and honours for their work and had teamed up once before in a Daily Mail sponsored hunt for the Abominable Snowman, the legendary, ape-like figure of the Himalayas. There is more about Tom in Nonesuch Features - Lost in the Danube.
Some tough decisions
But looking back to Gonbad-e-Kavus, Ralph had to make some tough decisions to keep the team working. Ralph held a permit from the Iranian government to film and in London the BBC wanted programmes 'like tomorrow' to pack the winter schedule.
Television in the 1960s was a novel entertainment with families crowding in front of a small black and white screen in one room - often eating supper as they watched. A good programme like Adventure at the prime time of 8.50pm drew an audience of five or six million and was absolutely guaranteed coverage in the Press.
Bokhara and beyond ?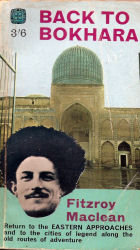 One extraordinary topic but out of reach to us was the remarkable Islamic architecture in Bokhara or equally the great markets and mosques of Samarkand, both across the Soviet border - behind the Iron Curtain. The Golden Road to Samarkand was mentioned more than once as a theme.
Ralph carried a small paperback - Back to Bokhara by Fitzroy Maclean, a diplomat and authority on Central Asia who had visited the cities in the 1930s and again as a tourist with the Russian State Intourist in the 1950s. Ralph and Fitzroy Maclean had met during their Intelligence work in World War ll.
Ralph who was a Fellow of the Zoological Society in London gave up on the tiger story but said we should search for the onager or gur, a rare and endangered Persian wild ass of the steppes. That idea worked and a week or two later I was hanging outside a small Land Rover racing across the Dasht-e-Kavir, the Great Salt Desert of Khorasan south of Semnan on the ancient Silk Road. But onagers threatened by hunters didn't make a film even with rich helpings of other desert fauna such as lizards, snakes and scorpions.
Our film gear was heavy and cumbersome so we had to keep to simple topics - good visuals and a lively story written by Ralph.
In a mini series looking back to experiences along the western part of the Silk Road I will cover features which have stuck in my memory - not to forget, I am writing more than fifty years after those two journeys. Each story will be with photos and maps. Here are some tasters.
The Marlik Treasure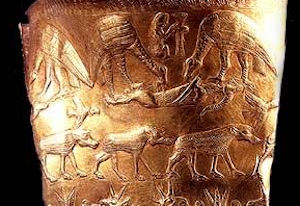 The gold objects of the Marlik Treasure are exquisite - I recall improvising a rotating platform for filming using an old cake stand. The fine depictions of animals hammered in gold flowed across the screen.
We filmed the newly discovered 3000 year old Royal Burial site near Rudbar in the Alburz Mountains on the route to the hidden Valley of the Assassins about 200kms northwest of Tehran.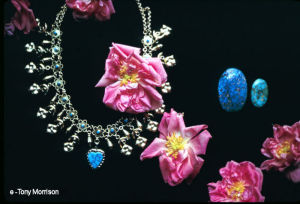 The beautiful turquoise of Nishapur
To match the richness of Marlik gold in any story is a challenge but the striking turquoise from the 2000 year old mine in mountains outside Nishapur [Neishabour] and known to Silk Road traders was something special.
Nishapur is close to the burial place of the Persian poet, mathematician and astronomer Omar Khayyam. And as an aside I'll look at Woodbridge a small town in in Suffolk, England where Edward Fitzgerald lived and worked on the Rubaiyat of Omar Khayyam. His translation and presentation of some of Khayyam's great literary work became a bestseller of the Victorian-age.
Mashad and Tus
Both my early Silk Road journeys took me to Mashad, Iran's Holy City in the far east of the country with its superb Imam Reza mosque. This mosque and the shrine of Imam Reza is visited by between 20 and 30 million pilgrims each year.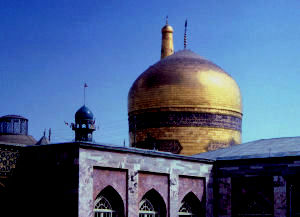 The city bustles with industrial activity but fifty years ago it was smaller, quiet and very traditional. In 1960 open waterways dominated some streets and shops were open fronted, especially those selling brassware and cloth.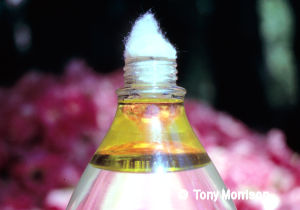 Attar of RosesThe genuine oil comes from the steam distillation of rose petals and I found some in a beautiful closed garden in Mashad.
The light coloured oil gathered on the surface of water in a bottle and the moment the stopper was opened the wafting perfume conjured images of ancient Persia Truly...A Magical moment.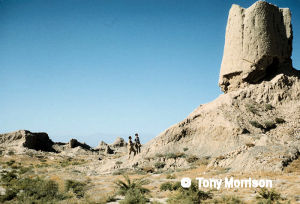 The old mud-built walls of Tus - .One special set of pictures in our collection
Mashad was a few kilometers east of the settlement of Tus (Tous), one of the oldest sites on the Silk Road. Alexander the Great, the Macedonian warrior, sacked the place in 330BC and the demolition job was completed by Mongols in the 13th Century.
I was fortunate to see what was left of the ancient Citadel before it was covered with a protective roof.
The Sacred Hill of Sistan and Aurel Stein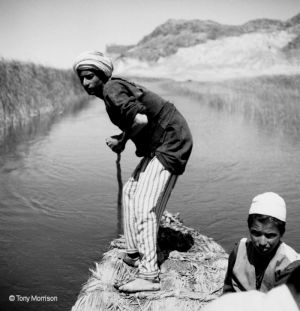 I filmed - but not in depth - the Sacred Hill of Sistan on the border of Afghanistan. The hill is south of Mashad and on a spur of the main Silk Road route.
The principal features of a fortress, a Zoroastrian fire temple and small palaces are set on a low, basaltic dome once surrounded by a lake. In the 1960s the place was sufficiently remote that outsiders were rare.
You can find the hill on Google Earth and ... surprise. surprise.. it was known to Aurel Stein the Hungarian born, arch pillager of antiquities for the British Museum and other institutions. Aurel Stein's account of his search on the Hill in 1916 is the most complete I have come across.
Among the antiquities he found were mural paintings - in a dilapidated condition - he said. Murals were a Stein speciality. He simply cut them in pieces, loaded them on camels and sent them home.Aurel Stein is on the left of the picture seated with his dog Dash 3, taken in China when he was searching for more antiquities. He was always accompanied by a dog named Dash - he had seven.
Since Stein's day times have moved on for the Sacred Hill. I was taken there on a reed boat poled by a tribesman whose home was on the edge of the lake. Today much more of this land is dry due to water-use in neighbouring Afghanistan and the few people who have stayed with their traditional homes are suffering. The sacred hill is near Zabol in eastern Iran. The the depleted lake is easily seen on Google Earth and I'll be expanding this story.
Tabriz and its famous bazaar- now a UNESCO World Heritage site.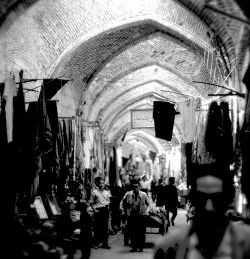 On both journeys I called at Tabriz, an Iranian city close to the Turkish border and once important on the Silk Road. The ancient bazaar, packed with stalls and traders is now a UNESCO World Heritage site.
In 1962 I made some of my most treasured purchases. I can assure you they are nothing expensive as I was working on a shoestring budget. But I found Kilims - hand woven rugs from Central Asia used as floor coverings in tents, Kurdish shoes, old bottles for wine and one for beer from Baku on the Caspian Sea. Just bazaar goods from fascinating alleys.
Then to Uzbekistan in 2015 - and a stunning 'Return' with Marion
In 1991 the Russian presence drew back across much of Central Asia and the Uzbek Soviet Socialist Republic with its historic Silk Road sites became independent. So after fifty years scouring Latin America we felt it was time to retrace some steps and decided to go to the Republic of Uzbekistan. And here are a few snippets....and the stories will come later.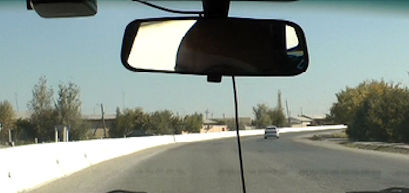 We found the Bokhara of Fitzroy Maclean had changed beyond his wildest description and The Golden Road to Samarkand was a spotless two lane highway with a white painted central division..
But the trees were still there 'Tall poplars lined the roads and watercourses....Absolutely spot on.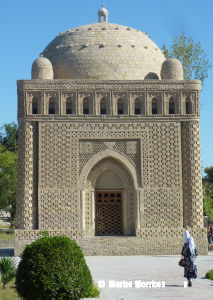 As we wandered from one spectacular mosque to another and then to huge madrassas and ever onwards to extraordinary minarets I thought back back to 1962 and wondered what could have grabbed me in televison terms.
At that sombre border near Gonbad e Kavus between Iran and the Soviet Republics all the inspiration we had was from Maclean's book and Ralph Izzard's far ranging knowledge.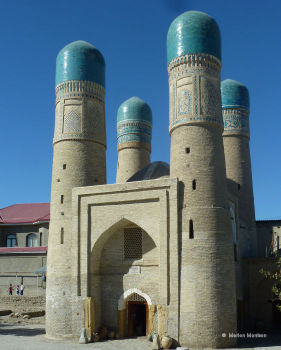 Left - Char-Minar or 'Four Turrets / Minarets' in Bokhara - built in 1807 it is the gatehouse to a madrassa and right - the Samonid Mausoleum a gem of religious architecture and devotion dates from 892-943 CE.
Like most of the buidings in Old Bokkhara they have been carefully restored
A script?
Undoubtedly these great works even in their decayed state of the 1960s would have been central to any script, the people and the street markets with wonderful carpets most certainly would have been there too.... but top of the list for me would have been the fate of two prisoners of the Emir Nasrulla Khan in 1843. The Emir was the absolute ruler of Bokhara.
Prisoners of the Great Game
Colonel Charles Stoddart who was born in Ipswich, not far from where we live, and Captain Arthur Conolly an Intelligence Officer were victims of the Great Game, the 19th century push and pull for power in Central Asia between the British Empire and Russia.
The episode has such a strong British connection that the story runs and runs - albeit with several variations. Stoddart was first to be incarcerated in 1839 and Conolly who went to his rescue was taken in 1841. In the 19th Century Bokhara was weeks of travel from the nearest British outpost. No eye-witness account of the fate of the two men was ever recorded and at best the reports of the time were second hand. The two men were out on a limb beyond thousands of miles of desert and back at home their circumstances drew wild popular speculation.
And it is here that a truly remarkable story begins with the epic journey to Bokhara of Dr. Joseph Wolff an eccentric Christian missionary of Jewish descent. For me, Wolff's epic adventure in search of Stoddart and Conolly takes on a special fascination for me as he died in England and was buried less than ten miles from my boyhood home in Somerset.
The Eccentric Missionary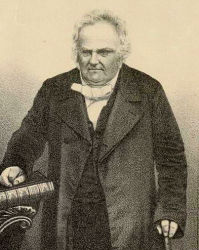 Wolff arrived in Bokhara 1844. It was his second visit as he was there in 1832 looking for 'The Lost tribes of Israel'. He soon picked up the threads of the prisoners fate but he was cautious about writing as all letters sent out of the city were examined.
Dressed in his black and red clerical garb and fearing for his own life Wolff met the Emir and discovered the truth.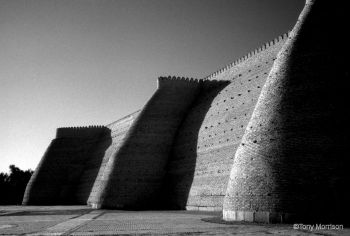 On May 5th 1844 Wolff reported home from Bokhara that the Emir had told him he had' put to death ' Conolly and Stoddart...... ' the first on account that he had treated Royalty with disrespect...' the Emir said.
Wolff was permitted to leave Bokhara on May 9th and with his mission accomplished he wrote a book on return to England. His Narrative of a Mission to Bokhara published in 1845 was re-printed six times and for a few years Wolff was famous.

The two British prisoners were beheaded in 1843 in a sandy open space overlooked by the imposing Ark [Arg] fortress with foundations from over two thousand years ago. The sandy place or Registan is now paved and the dungeon that housed Stoddart and Conolly has been cleared of its infamous vermin.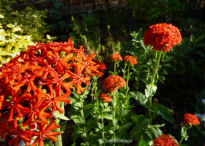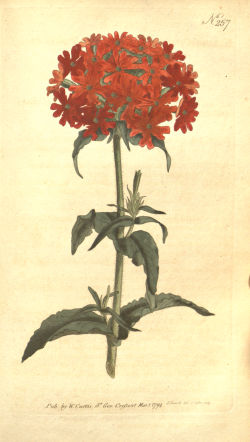 And of the Nonesuch flower, our emblem and a plant native to Central Asia?
Aeons ago Nonesuch seeds were carried along the Silk Road to the Mediterranean - and from there to Bristol where this story began. The plant can be seen in its native habitat in southern Russia and Kazakhstan.
If you are looking for seeds there are some good suppliers. Mine came from the University of Bristol, Botanical Garden
The Nonesuch Lychnis chalcedonica A plate from Curtis's Botanical Magazine Volume 8 1794 - for more see the Nonesuch Flower feature on this site.
Footnote Both Ralph and Tom died some years ago. Sir David Attenborough, now 89 continues with television and has been honoured worldwide.
My special thanks - The Royal Society for Asian Affairs, London - formerly the Royal Central Asian Society of which Ralph Izzard was a member. Ralph was responsible for my fascination with the Silk Road.
Also our thanks to to Jonathan Fitzsimmonds of Cox and Kings, London for his patience when preparing our travwl schedule and to Kamalov Shavkat our interpreter and guide in Uzbekistan for his wonderful help with our countless questions.