Romania 2014 -Tony and Marion Morrison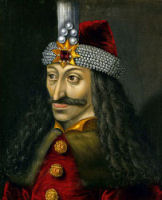 If you take a medieval castle set in a distant mountain country with a magical, almost mythical title like 'Transylvania'. Then add a grain of truth. Indeed, ' Vlad the Iimpaler ' with his improbable sounding name did exist..
Vlad was given the name 'Impaler' after his death as he is remembered for his brutal way of finishing off his enemies. That fits ... He was also 'Vlad Dracula' or 'Draculesti' from the name of a male ancestor.
The history is certain. Vlad lived from 1431 to 1476 or 7 - no one is sure and was by lineage Vlad lll a Prince of Wallachia - historically then a part of of Romania north of the Danube river. And that's where the castles are today.
So a Dracula figure existed and a brutal one too. Then, add a touch of fantasy. Indeed, the local folktales are full of vampire legends - blood sucking fiendish demons abounding in the Transylvanian night... Then to get that creepy feeling raising the hair on one's neck add some classic Victorian horror writing.
A meeting with Count Dracula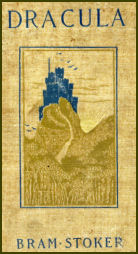 .......I suddenly became conscious of the fact that the driver was pulling up in the courtyard of a vast ruined castle, from whose tall black windows came no ray of light and whose broken battlements showed a jagged line against the moonlit sky......
Well ... would you want to stay overnight?
The Irish writer Bram Stoker's Stoker's Gothic horror novel Dracula first published in London 1897 had all the elements for a bestseller and more. And much more as the tale of Count Dracula even with a stake through the heart keeps running and running - books - films - television and now the internet. It is some story by any measure.
The cover on the left is from an early edition published in the USA and the image of the castle on the hill could be said to resemble almost any castle - everyone looks for clues.
We went to Romania
our search was on to find castles with some hint of a Dracula past so the first stop was Bran near Brasov in the Carpathian mountains, about two and half hours north by road from the capital Bucharest. The small town is in a wooded setting and the castle is built on an abrupt rocky outcrop. Bran Castle has its own website and now [2014] is up for sale. The asking price is in the order of 80m US dollars so we are not in the market. It is known as 'Dracula's Castle'. But is it the place?
As you will guess, Dracula aficionados, scholars and almost anyone who cares to join the quest tries to match the facts to the fiction and judge if Bran Castle was used by Bram Stoker for his Transylvanian setting. After all, Bram Stoker never visited Transylvania so that opens all sorts of doubts.
Vlad the Impaler is supposed to have passed through Bran but seems not to have lingered. The castle dates from the 13th Century at least as a simple fortification so could fit as Vlad would have seen it. But that seems to be the only link. Bran Castle became a Royal residence in 1920 and a favourite of Queen Marie of Romania. The current interior has kept some of the Royal rooms where memorabilia and photographs are displayed. Any Dracula connection is kept at a very low key and in the very top rooms. But it is a wonderful castle - now a National Monument..