A mark on my life
It could be said the Quantock Hills in Somerset have left a mark on my life. As a schoolboy I looked from my bedroom window to the Seven Sisters, a group of beech trees five miles away on Cothelstone Hill one of the highest points. Our family home was in Bishop's Hull a small village just outside Taunton the centre of the historic 'Vale of Taunton Deane' and by the time I was fifteen with mobility on a five quid bike I was covering those 'Hills' from end to end.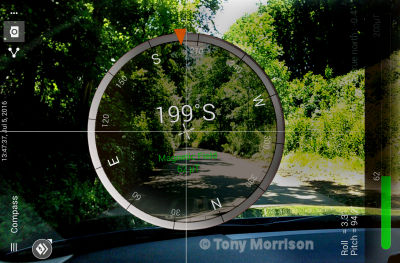 The Quantocks are only 19kms long and about 6kms wide with steep, heavily wooded lanes. The highest point is 386 m (1266 ft) at Will's Neck, a name said to be drawn from an ancient tribe.
But the slightly lower Cothelstone Hill at 332m soon became my favourite for its spectacular views. From its summit you can see north to the Bristol Channel and the two islands of Steep Holm and Flat Holm, to Hinkley Point and its nuclear power station, to the Welsh coast and in clear weather to the Brecon Beacons, the grand hills of South Wales. Two hundred years ago one writer said the view from Cothelstone included 14 counties and 150 churches.

Let's leave the geography and add that in 1956 the Quantocks were designated the first English Area of Outstanding Natural Beauty [AONB]. Then only a few years later in 1970 a large part of the range was given the rare status as a Biological Site of Special Scientific Interest. In 2015 the CPRE [Campaign to Protect Rural England] produced data showing the night sky over the Quantocks was among the darkest in England.

Now to my return. Why?
This year I was 80 and after a lifetime of far flung travelling I felt that something very personal was needed for a celebration. A party? ... 'Not a Big Deal ....and most certainly... not my scene. Almost all the friends who had backed my youthful, full-of- energy with eyes-wide- open adventures have passed through life's constantly revolving door. So who to invite?

John Andrews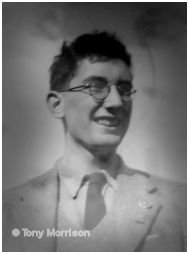 John was lanky and top of the form in chemistry and physics. He was lanky - over six feet as a teenager and from our chemistry teacher A.G Marshall had the nickname 'lighthouse'. In 1952 John helped me with some of my earliest trips to Cothelstone from where we sent messages using ex- Second World War signal lamps to my father watching from my bedroom window.
We used flashes long and short in the Morse Code. I was taught by my father who had been trained in Wireless Communcations in the RAF (Royal Air Force ) in the early 1920s. John excelled at science and later after passing through Henlow, the Royal Airforce Technical College he made a great career in the electronics branch of the Service. Both John and my father have gone. The window is still there.
Traces of wartime secret observers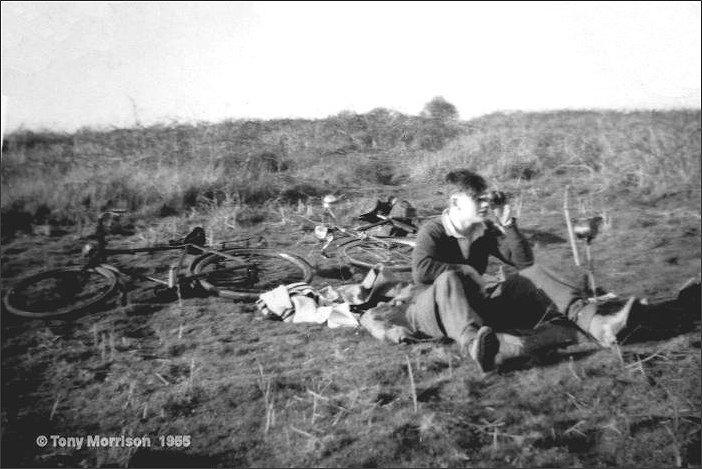 Our bicyles were old and mine especially was heavy with clunky 28 inch wheels and we had to wheel them over old footpaths. The higher parts were grass covered and we chose to move down the slope to a level where bracken - Pteridium aqualinum, a large fern covered the ground.
We chose a spot on the southern slope a short way from the Seven Sisters trees - they are just visible in the background. By chance or more likely because of the position we found that we were not the first to use the place for communications and deep in the bracken we found traces of Second World War burrowing by agents of the Royal Observer Corps or similar. They would have been looking out for the Luftwaffe - the German airforce - flying overhead on the way to bomb Cardiff in South Wales.
An introduction to Natural History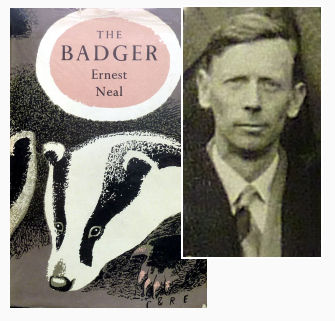 My biology teacher in the 1950s Ernest Neal was the son of a Baptist Minister and a distinguished naturalist. At the time Neal was famed for his ground-breaking studies of badgers - Meles meles and was one of the earliest contributors to the BBC Natural History Unit in Bristol
Our school biology laboratory often reeked of dead badger when a carcass arrived from one of Neal's country helpers. As students we helped with the dissection and taking samples for microscopy.
Much later, Neal became known as 'the Badger Man' but in my early years he was a family friend teaching me the basics of ecology - an emerging science at the time. He had three sons and with Keith who was about my age I cycled to Salcombe on the south coast of Devon for one of Neal's 'Holiday Field Courses', studying life in the tidal zone of the shore.
'Ernie' - to us irreverent school lads, also showed me how to watch badgers at night in the glorious silence of a wood near Buncombe in the Quantocks. He died in 1998.
David Jones
The list of friends from the earliest days is not long. Even with the family of the Reverend Jones, a Welsh Congegrational Minister and his wife Gwen that included David and his two sisters living a few doors away in our row of semi-detached houses, my party would not have occupied more than a table.
The Jones family arrived in Bishop's Hull from London in 1943 and like others in our row of houses, they were escaping from the wartime bombing. One of the sisters, Gwyneth, recalled 'in London we were sleeping on mattresses in our L shaped hallway'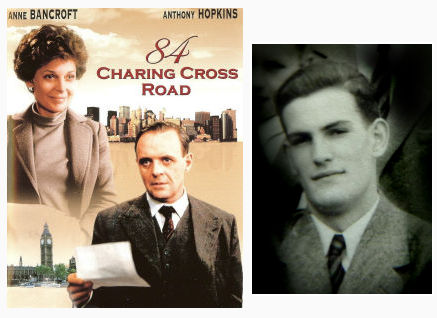 David was a couple of years ahead of me at school and went on to a glittering life as a stage and film director. In his early years he produced for the BBC art programme 'Monintor' and went on to become the Artistic Director of The Royal Shakespeare Company.
Among David's best known films is 84 Charing Cross Road. He died in Rockport, Maine, USA in 2008.
Gwyneth the oldest in the Jones' family was ordained as a minister in 1992 and David attended the service. They were very close. Gwyneth who is still alive and nearing 90 still lives in the village. Very sadly, though Gwyneth is as bright as a new penny she has been unwell. [ed: 2016]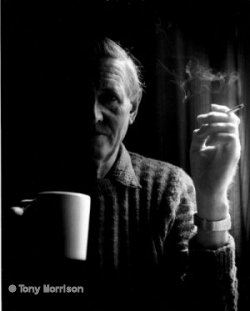 Then another friend from nearby was Mike Causley whose grandparents owned the New Inn, a 'pub in Wilton at that time on the edge of Taunton. As the New Inn it was the oldest recorded 'pub in Taunton and has been renamed The Vivary Arms..... 'So much for history - Harry Causley the old licensee must be rolling in his grave.
Mike who shared many local memories died young and we met last in Bishop's Hull sometime in the mid 1990s over a glass or two of 'scrumpy' Mike, his 'fag' aka a cigarette and 'scrumpy' went hand in hand.
David Cole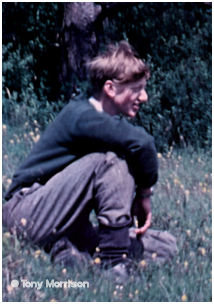 Luckily, David, my long-time friend from our road said he could get to the Quantocks for a picnic.
David whose home is now in London was born in the village and lived in the same row. He has been a lifelong fellow aficionado of photography. From Somerset Art College David was awarded a Kodak Scholarship to train in London and eventually he set-up professionally.
You can get the feel of our close knit village of the 1950s with David receiving extra tuition at maths from 'Mrs Jones', David and Gwyneth Jones' mother who was a mathmetician with a Cambridge degree.
Back in the mid 1950s David and I cycled all over the hills taking photographs and getting into some awkward corners - not just with farmers when we 'scrumped' for apples, but in one very small cave the home of rare bats I was trying to photograph, or another time in an old open pit copper mine. The loose shale side began to slip and David noticed the dangerous movement just in time. His shout of ' run - get out ' is still with me. It was one of my first lucky escapes.
The Quantocks are dotted with old mines and in my Quantock Project I am still looking at them for picture subjects and to the 19th C miners for good stories.
Cothelstone 2016
It was to be a party of two with an austerity style 1950s menu of Spam sandwiches, fish paste by Shippams 'established in 1750' on dry bread with local cheese and home grown tomatoes. Perhaps a bun or two with richly coloured home-made damson jam? Then without any question we would have a glass of light Somerset cider for the toast.
At the last moment we added some creamy Somerset butter as during the 1950's our milk from a village dairy could be home-churned into a butter of sorts: it had an unforgettable flavour. Post war Food Rationing did not end until 1954 a couple of years after I first cycled to Cothelstone.
Now you have the menu and the rest of the story will be about two brilliantly clear days in the Quantocks, some wonderful places and the people we met. I will be adding a handful of pictures from my library and some new shots taken in places we overlooked sixty years ago. This time we travelled by car and walked - though for old times' sake David brought his bike. Marion my wife came too and gave me the helping hand in rough ground I admit I need these days.