MARGARET MEE'S AMAZON

A THEME CREATED BY TONY MORRISON

© 1987

Her life embraced art, politics, the threatened environment and a quest for a very elusive Amazon flower. Most of all all Margaret was an brilliant story-teller .
---
1906 Saturday June 2nd. George John Henderson Brown, 30, married Elizabeth Isabella (Lizbelle) Churchman, 21, at the parish church of St.John's Wembley, Middlesex now in greater London. England. George was living in Alperton and Elizabeth was in Greenhill also close to Wembley.
George John Henderson Brown was born in Battersea, London on 12th January 1876 - his father was a clerk with an insurance company - at that time a job with considerable responsibility]. By the time he married, young George had a good position at the Alliance Assurance Company and as the supervisor of a department he earned about £400 per year.
Battersea is a district on the south side of the River Thames known today for an old power station, a protected London landmark. Alperton and Greenhill are north of the river and not far from Wembley . St John's, a Victorian church with a burial ground dating from 1857 is in the centre of the town.
The Hendersons or Hendersen, were believed to be a seafaring Swedish family. The name 'Henderson' was adopted by George's father, who with blue eyes and brown hair was very typically 'English'. Lizbelle's family the Churchmans felt sure they had links with the East Anglian Churchmans who were wealthy tobacco merchants. Lizbelle's father John Henry Churchman - in the picture on the left described himself as 'Gentleman'.
Margaret's connection with the Churchman family of East Anglia [a region in England] is very unclear even in these times of online ancestry databases.The links appear more as a family myth than reality.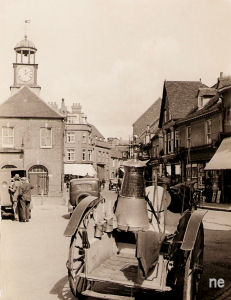 George and Lizbelle moved to Chesham, a town on the northern edge of the Chiltern hills of Buckinghamshire to live at The Crest, White Hill.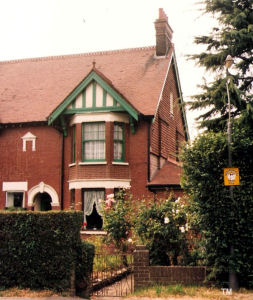 The house name came from its position on the top of a steep hill outside the town. George was usually awake before 6am each day and travelled by train to Moorgate and then walked to offices in Bartholomew Lane beside the Bank of England. George had fought in the Boer War with the City Imperial Volunteers and was a staunch 'Empire Man'. He was appointed a Special Constable with the City of London Police Reserve. He was a Freeman of the City of London.
Chesham, [left -seen in 1932] is 29 miles / 46 kms from London is at the northern end of the Metropolitan Line. The line was built in the days of Victorian railway expansion opening the small towns for people working in London. When George and Lizbelle arrived there the population was approximately 10,000.

The Brown household included a living- in maid who earned 10 shillings per week and an aunt, 'Auntie Nell ', Ellen Mary Churchman,

Lizbelle's sister. Ellen Mary was an accomplished artist who used her talents to illustrate children's books, including one written by Susan, Countess of Malmesbury in 1907. She was deaf in both ears caused by the fusing of the bones of the middle-ear and the problem slowly worsened until she was stone deaf. Eventually she learnt to lip read at Miss Hare's school in Sussex.
One old British pound = 20 shillings.
1907 Dora [Isabel Dorothea Brown] the first child was born at home at The Crest, White Hill, Chesham
1909 22nd May - Margaret Ursula Brown [Peggy] was born The Crest.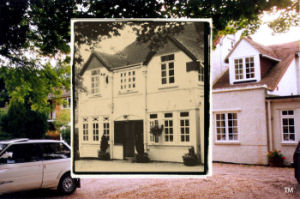 1909 / 10 Soon after Margaret was born the Family moved from The Crest to Rosemead a substantial residence in secluded grounds near Lye Green, a tiny village about three miles from Chesham.
' Lizbelle's parents were not well-off [did not have money] at the time and George arranged with the Mash family (Covent Garden fruiterers) for their Pomona Cottage in Grove Lane near Rosemead to be rented to them' [JB]
[Rosemead was enlarged and then converted as an elderly persons' home - Culwood House.]
1910 Cath was born,- Catherine Mary Brown - at Rosemead
1914 John [to be the last child] was born,- John George Henderson Brown - at Rosemead. Edward Streather a successful builder and Estate Agent, a good friend of George, became his godfather. The Streather family lived at Little Nalders the nearest house in the same lane and had two children Betty and Maisie. In later years Betty became one of John's close friends
At the time there was no suitable elementary school in Chesham, only the local 'Board School' so Ellen Mary acted as governess for the Brown children and for Maisie Streather
At the outbreak of the Great War against Germany, father George tried to enlist with the army but on account of his age (38-) he was rejected, though eventually he succeeded in joining the Durham Light Infantry ' they accepted him because volunteers were hard to find, so they turned a blind eye to his age' JB.
1915 (?) When George left for the war, the family moved to the south coast Auntie Nell remained in Chesham with her parents in Pomona Cottage while Lizbelle and the children found lodgings at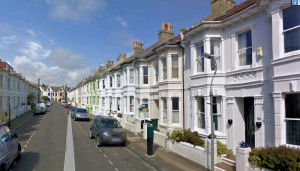 42 Stafford Road in Hove (adjacent to Brighton on the southern coast of England. The landlady was Mrs.Hetzell - she had married a German prior to the First World War.
Brighton and Hove are side by side . Brighton is best known as a top tourist venue and is about an hour by train from London.
Peggy was only five when she and and Dora were sent to a private school, The Grange, Eastbourne where they boarded. According to family memory Peggy hated it. Later they moved to Avondale School, Old Shoreham Road, Hove where they joined Cath and John. [John was four and a half years old went to Avondale and for Dora it was her last school.].
During the time the family lived in Hove there was an surge of interest in spiritualism - partly due to thousands of war widows hoping to make contact with their departed husbands. This was the time when Conan Doyle became one of the great names of the spiritualist movement. Lizbelle too, persuaded by friends in Hove the Fernyhough family, became involved with the Theosophical Society. [John kept in touch with the Fearnehoughs and later almost became engaged to their daughter.]
1921 (late in the year) Auntie Nell left for Canada where she continued to illustrate books.
1922 Lizbelle and the four children remained in Hove until at least 1922, when the family returned to Chesham - to a smaller house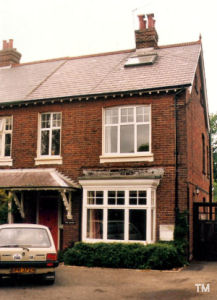 The Haven in Eskdale Avenue about a mile from the town centre. [the house still has the same name]. ' Family treasures including a 'sampler' by the great grandmother Elizabeth Felizada Milne and possibly a Dresden clock were taken out of a local warehousin - Brandon's Storage where they had been for the war years'. [JB]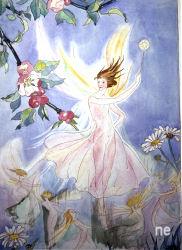 At about this time Peggy was drawing fairies and a clairvoyant, Mr. Hodgson who was deeply into the astral world, took some of the pictures and published them without permission or payment. [MM]. One picture from the time is signed 'Peggy Brown' and titled..' Now the Fairy queen gives the signal to stop', The picture on the right is Peggy's - [later Margaret Mee].
The theme is possibly a reference to dances Peggy had visualised. Lizbelle was deeply moved by Hodgson's clairvoyance and thought he was 'very spiritual'. [JB]
[1922- Conan Doyle produced an extraordinary book-The Coming of The Fairies- which included 'The Cottingley Fairies'-photographs of fairies by two Yorkshire schoolgirls.]
1922-1925 Peggy was at school with Cath at Dr.Challoner's Grammar school, Amersham. The art master was Bengie Buckingham. (Dora had left school in 1922 when she was 15). Peggy and Cath were very close, sharing secrets, usually with Cath following Peggy

Peggy and Cath were members of a local amateur dramatic society which floursished in the town. This is from the play 'She Stoops to Conquer' an 18th century story by Oliver Goldsmith
On one occasion the two girls 'ran away' from home going to the Rose and Crown, a Trust House in the nearby town of Tring for a night. 'The family was severely shaken' - a comment by the late John Brown [JB]
1925 - Feb 10th George John H Brown attended a dinner for the City Imperial Volunteers at the Guildhall to mark the 25th Anniversary of the Boer War.
1925 Peggy left school at 16 with a School Certificate, at the time known as the General Education Certificate which students required for a step into colleges. Her life was about to start - Peggy rebelled and before she had reached the age of twenty, and followed by Cath, she began to look far beyond the comfortable, closed world of a small town.
FOR HELP WITH THE PREPARATION OF THIS ACCOUNT MY SPECIAL THANKS ARE GIVEN TO THE LATE JOHN BROWN, THE LATE MARGARET MEE, THE LATE DORA PROWER AND THE LATE MISS VIOLET CHURCHMAN OF WOODBRIDGE , SUFFOLK - Tony Morrison
---
The text and most of the images are © Copyright
For any commercial use please contact

| | | |
| --- | --- | --- |
| THE NONESUCH - FLOWER OF BRISTOL | | AN EMBLEM FOR ENTERPRISE |