"I spent many weeks closeted with Margaret in her house in the Santa Teresa district of Rio. Each day we covered a different stage of her life as I read the manuscripts for each of her Amazon journeys. It was from these, often deep discussions that I realised that before me was a truly remarkable woman. I needed to know more."
.....The editing continued into early 1988 and was broken only by a the search for The Moonflower. 'The book needed an ending - a glorious ending and so with a help from many friends it succeeded.'
'It was on that trip to the Amazon, Margaret's 15th and for me as a writer and traveller. well... I've lost count of trips to the Amazon. Most of all, though, it gave me the opportunity to see and hear Margaret away from the city environment. She was a totally different person'.
The Midnight Hour 'Tony' she said, 'I know you would like a beer'
'It was late after a long day in the warm sun of Manaus in the heart of Brazilian Amazonia. We left the rest of our party and headed for a small bar within sight of the huge dome of the Teatro Amazonas, often known as the 'Opera House' and a relic of the 19th century 'Rubber Boom'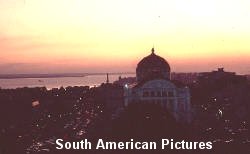 . 'Margaret, there are a few points about your early life that need some explanation..... we got along well enough together for me to be quite open. 'I can see from my notes that some of the stories you have told just don't add up. Some of the the biographical bits are bothering me.'........
'Margaret then began a story that she never had time to complete. .. Her 'Flowers' book was published in November 1988 and by the end of the month she had died after an accident at a traffic 'blackspot' in Leicestershire, England.'
November 30th 1988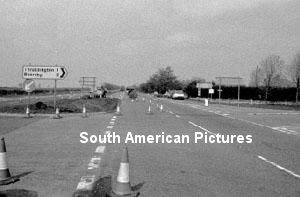 Tony Morrison continues 'The book contains a short chapter of biography titled Before The Amazon and it caused me some editorial headaches. I had spotted a tiny clue to the true lifestory of Margaret Mee and after consulting her I decided to leave it in the text. The clue will be disclosed in the Margaret Mee archive on the Nonesuch Expeditions website. It appeared at an early stage in the original story nd I never had the chance to follow it up when she was alive. ' There are just a few things that for the moment I shall keep to myself ' she said. A woman's privilege, I mused
Early Days Margaret's early days were surrounded by family friends in a leafy country town not far from London. Today it is commuter country, much as it was then. The railway line was constructed for the purpose of opening up the countryside to residential development. The name used at the time by the advertisers was Metroland immortalised by the poet John Betjeman.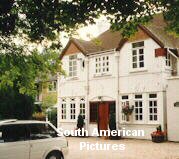 Margaret was proud to talk of some of her roots but preferred to be modest about others. She grew up with two sisters and a brother with an aunt as a tutor, her mother, who was a radical- at least as far as her education was concerned - and a father who worked in the City of London
Headstrong Margaret, always known by her pet-name, Peggy soon broke away from the family ways and left to live in London.It must be remembered that In the late 1920's that was not the convention. Her sisters were unconventional too, but that's a longer story. Peggy's talent as an artist had surfaced at a very early age but for the 1930's she put aside her palette and like many young people she turned to politics. Her first marriage was to Reg Bartlett a well liked Trades Union member and communist. Peggy was no simple camp follower. She had joined the British Communist Party too, and was already making her mark. One colleague recalls 'she was the only person I know who wore high heels and make-up to a demo. But didn't she make the news.'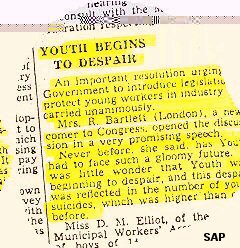 She was a good speaker and passionate ....always so very passionate about those things she believed in'.
As the 'thirties rolled by the 'causes' for support and public attention were numerous. It was not a time to be poor and Peggy soon found that her life was to be dedicated to the under- privileged. She worked hard at 'issues' and became deeply involved politically, especially with the Spanish Civil war and against the Fascist movement in Britain..

David One of her later boyfriends, David, a photographer and Union organiser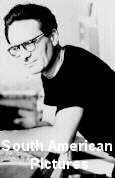 had been with the 'International Brigades' in Catalunya.
War The second world war gave another twist to her ideals and she was given a position of trust within her 'cell' at an aircraft factory. Even when the fighting was over she continued her work but needing to earn money she turned to art. She had many friends who helped her find her way to Art School and it was there at St Martins' in London that she met Greville Mee. Early in the 1950's they left for Brazil and another stage of her life began. She changed her name immediately on arrival in Brazil, though it was some years before she married again.
Amazonia Although remembered with great affection by her old colleagues Margaret Mee is today best known worldwide for her botanical art. The new book will not forget her extraordinary talent and neither will it overlook her enormous contribution to the international effort to 'Save The Amazon'. She was as well aware as anyone connected with the region that the calamity facing the forest in the 1980's was just 'another messy political business'. Freedom of speech was controlled by a military government in Brazil for much of the 60's and 70's. Once she had the freedom to speak, and often before, in private, she began her own crusade. She was determined that the multi-national companies, banks and developers should be exposed. For her it was another political struggle and one she was determined to win. As the saying goes ' A leopard doesn't change its spots'
| | | |
| --- | --- | --- |
| | | |
| Gustavia | | Catasetum sp - orchid |