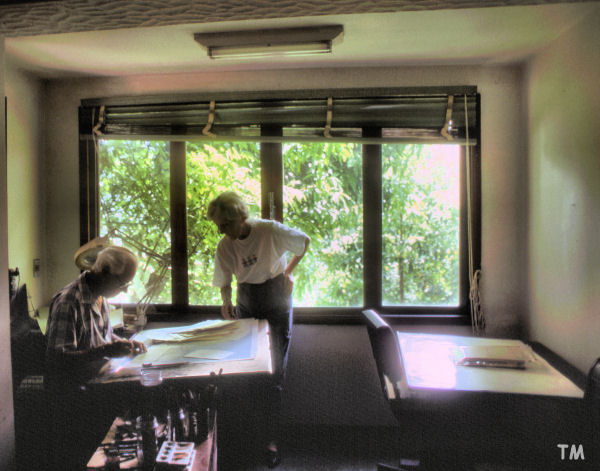 They met 1946 in London, England at St.Martin's School of Art in Charing Cross Road. Almost immediately Greville moved in with Margaret to live in a single room of a large flat [apartment] with some of Margaret's friends.
Greville was an extremely talented commercial artist and indeed one art valuer in London reckoned Greville was a better artist than Margaret.
They were not married when left for Brasil in late 1951 and in fact did not marry until 1980. They lived together in São Paulo using the name 'Mee' and later in Rio de Janeiro in what some said was an 'open marriage'. It certainly was a relationship that suited them as each could pursue their own interests and make friends in different circles.
In Margaret's house in Rio they shared the same studio and as Margaret said ' he always made valuable comments about my composition' And in the case of the Amazon Moonflower , Greville created the initial design
After Margaret's death in 1988 Greville married an old friend from São Paulo days. He died in 2007.
In 1989 St Martin's School of Art merged with the Central School of Art and Design to become The Central St Martin's College of Arts and Design at a new address in Kings Cross, London